Darrius Heyward-Bey, the, 6'2", 210-pound Maryland wide receiver.
"I seem to be in the distinct minority in that I don't have Southern Cal quarterback Mark Sanchez sitting there waiting for the Jets to snatch him up. But I'm OK with that," Banks writes. "Believe it or not, I think New York has more confidence in the untested Brett Ratliff than most folks know. Having lost Laveranues Coles, New York should be in the market for a receiver whose 4.3 speed is capable of stretching the field opposite the steady Jerricho Cotchery."
Bey is a good one, no doubt. He in fact reeled off a 4.30-second 40 at the recent combine workouts, the fastest not only among the fast wideout class but among all combine participants. He also had a 38.5" vertical jump, fifth among wideouts, a 10'6" broad jump (tied for fifth) and a 6.80-second three-cone drill (tied for eighth).
Add Heyward-Bey to the watch list.
Changing of the Guard ... er, QB
Joe Namath has replaced Brett Favre.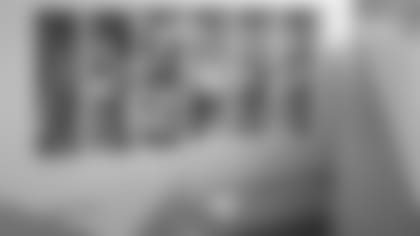 Well, no one can replace Brett in NFL history, and if anyone could it's Joe Willie, but what I'm referring to is the interesting photo display above the stairway leading to the second-floor business offices here at the Atlantic Health Training Center.
There are six flat surfaces high up on the wall separating the outside from the stairway. On the outside panels are large vertical green-tint photos of the Jets' six captains from 2008. All six remain there for the time being, with Favre, No. 4, on the first panel.
But inside those panels have been used to illustrate one even larger horizontal photo in six sections. For the first year in the building, Favre leaning over center Nick Mangold about to take a snap was the subject of the large display.
But Rob Krolick of NCG, the New York design company that works closely on publications and artwork around the facility, was in the building today and I spotted his handiwork late this morning. Favre had been replaced by Broadway Joe in six pieces, loading up one of his downfield throws, perhaps for Don Maynard, perhaps for George Sauer.
It is an inspiring shot of Namath that I will see again on my way out of the building in a short while. Unfortunately not a sight many outside the building can see Rob's handiwork, but I'll try to get our legendary lensman, Al Pereira, to snap a photo of the photo and get it on the site for you all in the near future.
Upate:Here is the photo of the "Louvered Namath," which Jets fans might argue belongs in the Louvre. The shot was taken by Al Pereira on Monday, March 16. We'll embed this shot in an upcoming Radar entry as well.