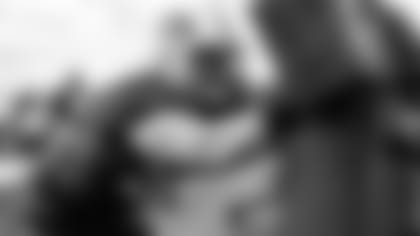 As one of the newer members of the Jets, Henry Anderson is feeling like his old self again.
For one thing, the Colts, who selected him out of Stanford in the third round of the 2015 NFL Draft, are shifting to a 4-3 defense this year.
"I was in a 3-4 for three years in Indianapolis and all throughout college," Anderson told me this week as the Jets began their OTA practices. "The switch in the offseason was a little different for me, but being back in a 3-4 definitely feels good. I feel that's what I'm better at."
One benefit for the D-lineman is returning to the weight he's been comfortable at. He was listed at 6'6" and 301 pounds as a Colt, but this year he had already begun the process of transforming his body for 4-3 end duty.
"I probably lost 20, 25 pounds, so I've just got to gain all that back," he said. "I'm trying to put it on the right way and not just do it all at once. I'll be there for sure by training camp but I'm not quite there yet."
Then there is his health. Anderson said he's been cleared and has returned to normal after an unusual injury cost him the last seven games of last season: a laryngeal fracture.
"I was rushing an offensive lineman, a running back chipped me, and the tip of his elbow just went straight into my throat," Anderson recalled. "You get hit in the throat a lot during a game and you just kind of brush it off. But that was the one time where, it didn't really hurt but it just felt a little weird. I kept playing, then after the game it was hurting pretty bad to drink water and eat food, so I got it checked out and it ended up being worse than I was hoping for."
He called it "kind of a stupid injury" but said the surgery and recovery were easy. One downside: "My singing voice is not what it used to be."
But he's got a chance to chirp in opponents' backfield as one of the experienced additions to the Jets' defensive, via the seventh-rounder they sent to the Colts in a draft-day trade. Penetration is one of his strengths — in 29 games with the Colts, he was in on 14 tackles for loss/no gain and racked up three sacks and 16 QB hits — and he likes what he's seeing in his new surroundings.
"We haven't watched a ton of film yet, but you see guys up front making plays. As a defensive lineman, that's something you always want to see. You want to be in the backfield getting TFLs and sacks," he said. "It's nice being out here. The facility's top of the line and this area's really nice. I'm excited to get to work out here."