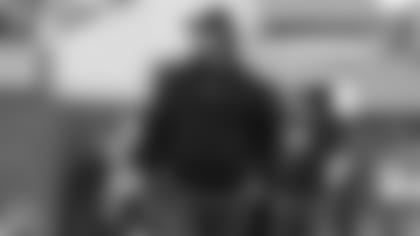 Jets HC Robert Saleh interviewed more than 15 candidates during his search to fill the team's offensive coordinator vacancy, but he continued to be drawn back to veteran play-caller Nathaniel Hackett.
"We went to college, went to different schemes, talked to different people, a lot of really, really, really good football coaches out there," Saleh said after the Jets made Hackett's hiring official. "But when it came back to a certain checklist that I was trying to go through just checking boxes on what we were looking for, with regards to this next offensive coordinator.
Hackett, 43, joins with Green & White after a one-year stint as head coach of the Denver Broncos and experience as a successful offensive coordinator for the Buffalo Bills (2013-14), Jacksonville Jaguars (2016-18) and Green Bay Packers (2019-21).
"He got that opportunity in Denver because of his life's work as an offensive coordinator," Saleh said. "And all the different things that he's done in this league. … It was a celebrated hire when he got hired at Denver, and it just didn't work out. Sometimes, things happen that way."
As an OC, Hackett's offenses posted top-10 finishes in scoring offense three times (2017-JAX, 2019-GB, 2020-GB). And in three of his last five seasons as an OC, his team reached the Conference Championship game.
"We went into this feeling like it was important for us to hire an experienced guy," Saleh said. "A guy who's put it together several times, not just one spot, but several spots. … It's been very important for us to have guys who have done it before because of the conviction, because of the philosophy, and having the recall and the scars to be able to build what we think can be a really special offense."
Philosophically, Hackett runs a West Coast system and has a history of conducting successful rushing attacks. Over his last five seasons as an OC, Hackett's offenses combined to rank 12th in carries, yards and rushing average.
"He is a West Coast guy with regards to scheme, so there's going to be some continuity there," Saleh said. "He's got a proven history of being able to develop a heck of a run game."
Also Thursday morning, the Jets announced the hiring of offensive line coach/run game coordinator Keith Carter. Carter served as the Tennessee Titans offensive line coach the past five seasons where the team averaged 139.9 yards rushing a game, the second-best in the league.
"I was shocked he got let go at Tennessee," Saleh said of Carter. "I am really excited about Keith. Continually in his time at Tennessee, even with Derrick Henry out, they were still able to spit out top 10 run games, been very effective in the red zone, running the football, getting the ball past the goal line and all that good stuff."