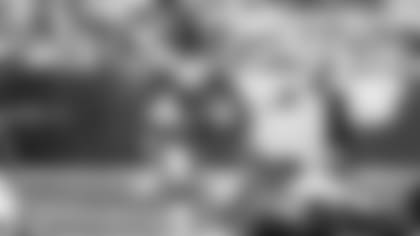 Rookie running back Michael Carter was one of the bright spots for the Jets in their home opener against the Patriots at MetLife Stadium on Sunday, a 25-6 loss.
The fourth-round draft pick out of the University of North Carolina, in only his second career game, in the NFL led a strong Jets' rushing attack against New England that amassed 152 yards among three backs (Carter, Ty Johnson and Tevin Coleman) and quarterback Zach Wilson (who gained 19 yards from three scrambles).
"First of all, the offensive line blocked it up and did a great job," said Carter, who had 59 yards on 13 carries (he also had 29 yards from 2 receptions), and picked up 6 first downs overall. "We came in with the right mindset today, as a team it's developing into a champion's mindset. In a fight we're going to get hit, but we're going to hit back. To me, it's a sign of growth."
Under head coach Robert Saleh and offensive coordinator Mike LaFleur (who continues to call plays from the sideline), the Jets' running-back-by-committee approach is likely to continue. But Saleh said there's a twist.
"Big credit, really, goes to Michael Carter, he was running his tail off yesterday," Saleh said on Monday. "Ty Johnson [12 carries, 50 yards] ran his butt off, too. This system has always been about giving it to the hot hand and letting it roll and even though Tevin [5 carries, 24 yards] had a couple of really cool runs and established himself early, you could get into the pass game stuff, but it's all with regards to the way the game flows. All three backs I thought showed up to play, but hats off to Michael. He was electric yesterday I thought."
Though the Jets have started the 2021 NFL regular season with two losses, Carter wants to make one thing crystal clear to Jets fans.
"Jets fans are so eager to win, they get upset easily," Carter told team reporter Ethan Greenberg on nyjets.com. "We love our fans and we want to win as much as they do." He added: "I feel like it's always going to be about us. As far as next week [at Denver] goes it's about us. We have to focus on what we have to do, to make things happen. No one is going to give you anything to us in this league."
Here's a look at plays in which Carter picked up first downs on the ground (he also helped move the sticks on his 2 receptions for 29 yards):
No. 1: The Jets, trailing by 3-0, had a first down at their 40-yard line with 4:46 to play in the first quarter. Carter saw an opening and cut back behind a block from rookie guard Alijah Vera-Tucker. He bounced to the outside, evaded a tackle and scampered 13 yards.
No. 2: The Jets, trailing by 10-0, faced a second-and-3 play from the New England 15 with 12:38 left in the second quarter. With WR Elijah Moore providing motion to the left, Carter took a handoff from QB Zach Wilson and burst to the outside on the right for an 8-yard gain to the 8-yard line.
No. 3: The Jets, trailing by 22-3, faced a third-and-2 play just inside Patriots' territory with 9 minutes left in the game. Carter took the handoff, saw the hole close in front of him, and then bounced the play to the left. With a burst of speed, Carter carried a defender 5 yards and gained 14 yards on the play.
No. 4: On the same drive less than a minute later, Carter took the ball from Wilson with the Jets facing second-and-5 from the New England 29 with 8:02 to play. He raced through a gaping hole on the right side of the line opened by Morgan Moses and Greg Van Roten, gaining 11 yards to the 18-yard line.
If Carter can continue his strong, elusive running behind the Jets revamped offensive line he could emerge as an impact back for the Green & White. The Jets got their ground game together against the Patriots in Week 2, and a better performance by Wilson at Denver in Week 3 could yield a complete and potent offensive attack.