Despite slow starts for the first-team defense in both of the Jets' preseason games, David Harris maintains the proper perspective as the Green & White's 2016 training camp nears to its close.
"I think we're going to be all right. I know people are saying we aren't playing well because of the first two preseason games, but we don't scout and we don't watch any film," he said after Monday's practice. "We don't do any preparation for the other team. We go out there and play very vanilla, basic calls. I think once we get into the season, we're going to do good things."
Harris, who has totaled 10 tackles (8 solo) along with a sack and a QB hurry this summer, says head coach Todd Bowles and defensive coordinator Kacy Rodgers have kept things close to the vest. But that will change just a bit when the Jets host the Giants Saturday Night at MetLife Stadium.
"We play very vanilla defense in the preseason. The coaches are more focused on seeing guys play more technique and do the basics of the overall scheme of the defense," Harris said. "We had a good test for a couple of weeks, but this game with the Giants will be a better test of where we are at. We do watch film before this game and we do a little bit of game-planning. We approach it as almost a regular season game even though it's the preseason. It's a good measuring stick for us."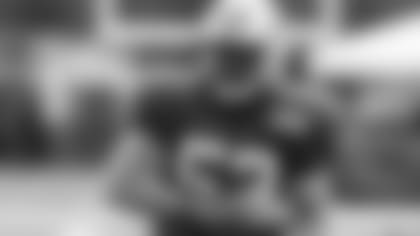 The 32-year-old Harris, who is finishing his 10th training camp with the Jets, needs 85 tackles to pass Mo Lewis into second place on the franchise's all-time list.
"Consistency. It's ridiculous," said assistant head coach/inside linebackers coach Mike Caldwell of Harris. "I always say, 'Dave is Dave.' Dave is going to go out there, he's going to work hard and he doesn't take anything for granted. He has a standard that he wants to play at, and he goes out there every day and he works to meet that standard. What you see Dave do, you see it over and over and over. Consistency should be his middle name."
The Jets couldn't ask for better mentors for rookie Darron Lee than Harris and fellow veteran Erin Henderson. After Henderson suffered a stinger Friday night in Washington, Lee has been working alongside Harris at the "Mo" position with the first team.
"He has a rookie learning curve just like we all had, but he's starting to turn the corner," Harris said of Lee. "Today he had a real big day with two picks in the red zone. He adds another dimension to our defense."
That dimension of course is speed and Harris says Lee can run all day. But the first-round pick, selected No. 20 overall out of Ohio State, is making a significant transition.
"It's more the basics and fundamentals and reactions. The game is faster here, people react quicker," Harris said. "Everybody has their own little tricks and niches that they use to get the job done. He has to work on his hands more because guys at this level people are too good to put a shoulder in on somebody and think that's going to be enough."
While Lee continues to make strides with Harris, the latter has also enjoyed working with Henderson.
"Erin has had a great camp. He brings a lot of enthusiasm, a lot of energy to practice," Harris said of the eight-year pro. "We play well off of each other. He's a veteran and he's seen it all just like I have. He doesn't get rattled out there. He's just a steady player that we need on this defense."
Everything will start up front for the Jets as Harris believes that Leonard Williams will be a force and Sheldon Richardson is one of the better three-techniques in football. He also talked about a Pro Bowl performer in Muhammad Wilkerson, who is receiving more reps in team drills, and he labeled newcomer Steve McLendon as "ox strong". Once they start running games up front, they'll be tough to block and Harris and company can clean up from there. The heart of the Jets defense thinks good things are ahead and he is looking forward to the clash with the Giants.
"We do want to go out there and start fast and be a little bit more crisp and sharp," he said. "We want to be able to stop the run better, play tighter coverage and put pressure on the quarterback. Hopefully we can get that done this game and it will be a good test. It's the inner city rivalry and it's always the most fun preseason game. The crowd on both sides are into it. It's a good atmosphere."