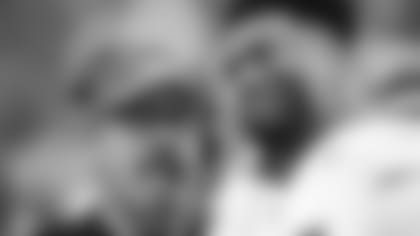 The defense is champing at the bit after the Jets' loss in Baltimore last Thursday.
"It was good," defensive coordinator Gregg Williams said of the extended rest. "They came back in here with a very good attitude on Monday. They had great meetings on Tuesday and this week of practice has been very good. They have a chip on their shoulders and they've practiced well. Right now, they're getting ready to do that players-only meeting in the virtual reality room."
The Ravens rushed for 218 yards on 34 carries (6.4 average), the most the Jets have allowed this season. Quarterback Lamar Jackson's 86 rushing yards was the second-most the Jets had allowed this season (Ezekiel Elliott in Week 6).
"It was a tough game," Williams said. "We all learned some lessons from it. We have a chance to make some corrections, get some guys back healthier this week now. One of the things I did take away from that, especially on a short week, I wish I would've done some things back in training camp to have some recall. But with a new system, a brand new everything, there really wasn't time to do any of that stuff back then because we were trying to get caught up in what we were doing.
"The guys didn't bat an eye, didn't flinch, took responsibility. The fun thing about what Adam [Gase] did, they had to come in and lift. We didn't meet with them until Monday, but the defense met together on Friday. They had a very good meeting almost as if I was in there."
Safety Jamal Adams, who missed two games, is likely to return on Sunday against the Steelers at MetLife Stadium. Adams, who was named to his second consecutive Pro Bowl earlier this week, sprained his ankle against Cincinnati in Week 13. He leads the team with 77 tackles, 14 quarterback hits, 7 pass defenses and 2 forced fumbles. He needs 1.5 sacks to tie Adrian Wilson's NFL-record for most sacks by a defensive back in a single season (8 in 2005).
"He's a very good football player," Williams said. "His energy is very good, but this team has high energy. We always like having the best guys around and this team hasn't blinked anytime anyone had to step up. It's been one of the better places I've been with no 'poor little old me.' They jump in there when they get their opportunity. This was the first time in his life he's ever missed time and it tore him up. I'm almost having to tell him, 'Hey. We're not playing yet. It's Sunday.' He's been practicing that way, very active and he can't wait to get out there."
The Steelers offense has been riddled with injuries this season. Quarterback Ben Roethlisberger has been on injured reserve (elbow) since Sept. 16. Wide receiver JuJu Smith-Schuster has missed the last four games and RB James Conner has only played in nine games.
"They have to fit to the skill-set of [QB Devlin Hodges]," Williams said. "Conceptually, there are a couple changes that way, but they are who they are and they're a very physical football team, a very well-coached football team. Mike Tomlin does a very good job on game management with timeouts, time on the clock and how they play the run game and calculated pass game. I have a lot of respect for Mike and that staff. It'll be a good game and a good challenge for us."
See Best Images from the Practice Field Leading Up to the Matchup Against the Steelers