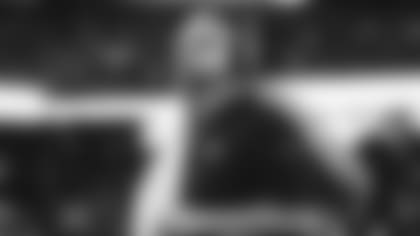 Jets defensive coordinator Gregg Williams is a self-proclaimed "competition-aholic," so it shouldn't be a surprise that Williams relishes the opportunity to face off against perhaps the greatest quarterback and head coach in NFL history, Tom Brady and Bill Belichick.
"Those are the things that drive us all. We love to compete and the thing that you have to love about him (Brady), he loves to compete," he said. "I've been in a couple different places where we went and practiced in training camp against him. The competition in practice is just like the competition in a game and all the great ones are that way."
However, off the field, perhaps to the dismay of Jets fans, the 61-year-old defensive play-caller considers Brady and Belichick friends.
"He participates every single year in my foundation for kids and I really appreciate him doing that," Williams said of the future Hall of Fame signal-caller. "I don't even have to ask him anymore, he just does it, which is excellent. But on Sundays, we're on opposing sidelines. He's excellent.
"Then, Bill Belichick and I go so far back," he continued. "He's mentored me on some things. When I first broke in the league, he was just coming back to Cleveland at that time in the early 90s. We both shared a lot of different things throughout the years. He's copied from me, I've copied from him. They're always very well prepared. It's also great as a coach to know how well you have to do because they're not going to miss any little detail and what's what we all should be doing. That's what I take good pride in."
Williams and the Green & White enter Sunday's contest a heavy underdog, facing a team that has outscored their opponents 76-3 through two weeks of the 2019 season. The odds are stacked against them, but they're not paying attention to the bigger picture.
"We're about this play, this moment, this day," Williams said. "We have to stack play on play on play and don't be surprised that we play pretty good. I talk all the time that this game is going to come down to four or five plays. Can you tell me today what they are? No, none of us can. So, every play is important."
Injuries
The Jets ruled out two players Friday: QB Sam Darnold (mono) and OLB Jordan Jenkins (calf). But ILB C.J. Mosley (groin), DL Quinnen Williams (ankle) and WR Demaryius Thomas (knee/hamstring) all didn't practice this week and the trio is listed as doubtful.
If Mosley doesn't suit up Sunday, Neville Hewitt and Blake Cashman would figure to get the bulk of work on the inside for a second consecutive game. In their first game together Monday against the Browns, Hewitt and Cashman ranked first and second in team tackles with seven and six, respectively, and both registered a pass defense and a sack (Cashman was credited with a half).
"I thought they did a good job," head coach Adam Gase said. "You could tell the difference between having a full week of preparation compared to when we had a guy go down, Neville had to switch spots (to Mike linebacker) and telling Cashman, 'Here you go, this is your first professional game. You're in.' Big-time difference just going through a week of practice."
Nickel cornerback Brian Poole, who suffered a groin injury during Thursday's session, was limited today and was one of eight players who were listed as questionable.