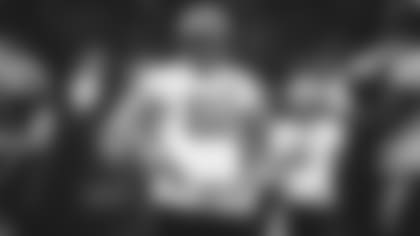 The word is out: Long Island native and Islanders fan Greg Van Roten made it happen.
From the ecstatic shots on TV of Jets Head Coach Robert Saleh smiling in his Islanders jersey (he has also worn one to the team's voluntary OTAs), to the cult-hero status of free-agent offensive lineman Dan Feeney and his ubiquitous mullet, Van Roten is reveling in his hockey team making it to the Stanley Cup semifinals and also his football team embarking on a new chapter.
"I've been converting a lot of guys into Islanders fans," Van Roten, who is from Rockville Centre, told reporters during Tuesday's Zoom call. "I joke with our PR team that I'm just using the Jets to get tickets to go see my team! But it's been an opportunity to bond, which we didn't have last spring and I think that hurt us through the season. This has been a no-brainer, hey let's get together, go see a game, blow off steam together and get to know each other not around football.
"I even gave Feeney a hard time because he's a Blackhawks fan." Not surprising since Feeney is from a Chicago suburb.
Van Roten, 31, is one of the holdovers from last season who has already sensed a sea change in attitude and approach, part of that coming as the coronavirus pandemic appears to be fading. That has given Jets players a more "normal" offseason of team activities, which is expected to lead to a relatively normal training camp, three preseason games and a "regular" regular season with fans in the stands around the NFL.
"Last year was tough mentally," Van Roten said. "It was so stressful for a lot of guys, there were a lot of new players and so much uncertainty. We felt every day that we would get shut down and that made it hard to go to work every day. You're trying to do your job, coupled with losing a lot, losing your job, there's turnover and a lot of new faces.
"They hire Saleh and it just feels like a weight has been lifted and hope has come back into the building. All we ask for is a fresh start in this league and no one is happier than the Jets. Now we're on Page 1, so let's write this year's chapter."
Van Roten -- who started and played in 13 games in the 2020 season, did not commit a penalty and took 76% of all snaps on offense at right guard -- said the lack of offseason preparation last year left many players -- particularly those on the offensive line -- with few repetitions together before the start of the regular season.
"We'll be better as an offensive line this year," GVR said. "Not just because of the scheme but because of the continuity of playing together. Last year there was no offseason, a short preseason and all of a sudden you're playing a game. Now we have a whole season under our belts, a normal camp, three preseason games and live reps that are going to make a world of difference. Now we know who the guy playing next to you is."
He pointed out that he and his teammates -- free agents, undrafted free agents, rookies and veterans -- felt an urgency to attend the voluntary sessions over the last two weeks for good reason.
"I didn't believe it was in my and our best interest not to participate," GVR said. "After how the season went last year, the young guys we have, the free agents, the rookies, first- and second-year players ... Some guys have never been in an offseason program. We have new players, new staff, new systems and it didn't make sense from my point of view to not get this exposure to the new staff and new system. It's important to get reps and to get to know your teammates. [Not attending] would not be in the best interests of the Jets.
"It's exciting to be back here with the guys and to come together as a unit."