Add Greg Salas to the list of reasons that our wide receiving corps, while not yet the Greatest Show on Turf II, is rising "from the ashes," in a phrase used in an NJ.com headline today.
Salas finished last week's full-squad minicamp with a strong multiple-receptions final practice that was crowned by a leaping fingertip sideline grab of a Geno Smith pass.
"I just feel a lot more comfortable," Salas said before jetting out for points west. "You have these times to get to know the offense a lot better, as opposed to just coming in and learning what you need to know for the week, making sure you know your play, and you're thinking a lot more.
"Now it's more, OK, I know the plays, I know where I need to be, I know what I'm looking for. I hear the play," he said, snapping his fingers, "and that's it. It allows you to play a lot faster and make more plays."
Salas is also coming around because last year he was one of the walking-wounded wideouts. He arrived as a Jet off the Eagles' practice squad with what he described as "a little sprained MCL" that slowed him for his first month in our different shade of green.
"Having to fight with that and learn the offense was tough," he said. "This year it's completely healthy and I already had the base foundation in."
Count Salas as one of the many Jets who are viewing these next weeks before training camp as a working vacation. As we mentioned, he's now west of New Jersey, as in Los Angeles, where he's working out at Athletes' Performance Institute.
And at some point he'll go another two time zones further west to Hawai'i. But it's not what you think. That was Salas' college. In fact, as we reminded with our 100-Catch Quiz earlier this month, Salas had not one but two 100-catch seasons for the Rainbow Warriors before being selected by the Rams in the fourth round of the 2011 draft.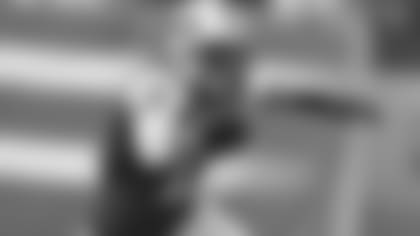 "It's more for my girlfriend. She's from there, and so we'll go back and see her family for a week or two," he said. "But I have a training place out there as well. I go back twice a year in the offseason for like three weeks because my mom lives out there too. And I can always go to the university and have people to throw for me.
"It's not too much of a vacation at all," he said, although he added with a smile, "It is nice, yes. It's definitely a nice place to be working out."
When Salas returns to North Jersey and then upstate New York for the start of camp in about a month, he'll be in a heated battle. The wideout position is bringing back a healed-up group from last year that includes Jeremy Kerley, Stephen Hill, David Nelson, Clyde Gates and Saalim Hakim, has added a high-profile veteran in Eric Decker and a speedy wideout/kick returner in Jacoby Ford, and brought in three drafted wideouts to boot.
"There are a lot of guys that can play, all different shapes and sizes," Salas said. "Everybody has his strengths. It's really a well-rounded, good group of receivers, a bunch of good guys. So it's going to be fun, a good competition for sure. And we'll see where the chips fall at the end of training camp."
Offense In Action: New York Jets Wide Receivers