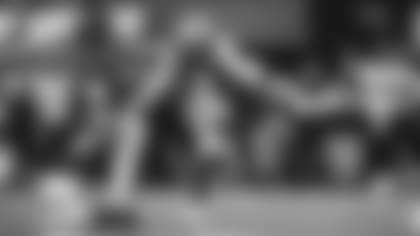 Gosselin, the long-time Dallas Morning News sportswriter, Talk of Fame Network radio host and Pro Football Hall of Fame voter, has compiled his well-regarded special teams survey for the last 39 years, and this year, after he totaled up all the rankings in 22 kicking-game categories, coordinator Brant Boyer's Jets finished solidly in first place with 231 points.
The next three teams following the Green & White tell an interesting story. New Orleans, an NFC Championship Game participant — and coordinated by former Jets ST guru Mike Westhoff — was second at 242.5 points. Kansas City, which reached the AFC title game, was third with 248.
And in fourth was Miami at 296.5. Adam Gase was, of course, the Dolphins head coach last season, and one of his earliest staffing decisions as the Jets' new football boss this month was to retain Boyer.
Gosselin says the Jets "began a rapid ascent" after Boyer inherited the NFL's 31st-ranked special teams units when he arrived for his first full-time pro coordinator position in 2016. The Jets rose to 30th that year, then 20th before reaching the top spot this season.
He also notes that in 1997, when Boyer was a "special teams ace" for Jacksonville, he recorded a franchise-high 25 kicking-game tackles to help the Jaguars special teams finish first in the league in that season's rankings.
Gosselin's methodology is to rank all teams from 1, for the best, to 32, for the worst, in each of those 22 categories, then add up the rankings, a system similar to how NFL passing champions were decided before the advent of the passer rating formula. Here are the categories in which the Jets ranked at or near the top in 2018:
Kickoff Returns — Sparked by Pro Bowl returner Andre Roberts and his blockers, the Jets as a team ranked No. 3 at 26.9 yards/return
Punt Returns — Roberts & Co. again showed the way as the Jets led the NFL with 13.0 yards/return.
Kickoff Starting Point — Roberts figures here again as the Green & White's average drive start after opponents' kickoffs was their 28.1-yard line, No. 1 in the league.
Opponent Punting/Opponent Net Punting — The Jets came in fifth in both these categories as opponents averaged 43.2 gross yards and 37.8 net yards/punt.
Field Goals/Field Goal Percentage — Pro Bowler Jason Myers' 33 FGs just missed Jim Turner's franchise record of 34 three-pointers, set in 1968, but the total was good enough for a fourth-place tie this year. And Myers' 91.6% accuracy on 33-of-36 kicking, which tied Nick Folk's franchise season record, came in at No. 5.
Points Scored/Points Allowed — Roberts' one kickoff-return touchdown and one punt-return TD gave the Jets 12 points in this category, tied for first with three other teams. And their coverage allowed no TDs, tied for the top with 15 other teams.
Blocked Kicks/Opponent Blocked Kicks — With Henry Anderson and Kevin Pierre-Louis leading the way with two blocks each (Gosselin credited KPL with a block on his partial punt rejection at Cleveland), the Jets' four blocks were tied for second. Meanwhile, their protection teams yielded no blocks, tied with eight other teams.