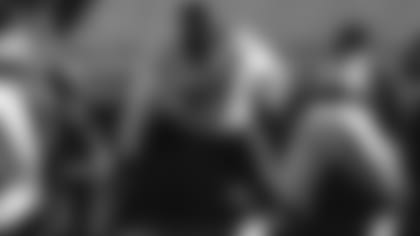 General Manager Joe Douglas' long-term vision for the Jets is focused on drafting and developing talent. He's had only one draft as GM of the Green & White, but his first class has a handful of players who are making an early impact, including first-round pick LT Mekhi Becton, who was selected No. 11 overall.
"I think everyone's excited about Mekhi," Douglas said. "I think Mekhi's obviously turned heads with his sheer size and strength, and I know Mekhi's as upset as anybody about where we are right now. He truly cares and he truly wants to help. I think he is a player that is going to help us long term. We're excited about working with him every day because you're talking about a young man that loves football. He's very smart, he's tough as nails and has a rare size and athleticism. And still, he's just scratching the surface of what he can do physically. There's a lot of desire from him to want to be the best player that he can be, so we've made it our mission to sort of bend over backward to try to help him reach his goals."
Becton (6-7, 363) has started five games this season and missed two with a shoulder injury. He's been one of, if not the best player for the Jets this season as he's protected QB Sam Darnold and opened up holes a fellow rookie, RB La'Mical Perine, who was selected in the fourth round. Perine, who's expected to receive a heavier workload in the second half of the season, had an impressive training camp and is second on the team with 41 carries for 150 yards (3.7 avg) and 1 touchdown.
"I think you've seen an uptick in La'Mical's playtime the last two weeks and wew're excited about that," Douglas said. "Excited about his progression. Obviously, he brings an explosive dynamic, he helps in the pass game. He has ball skills."
Another rookie who's immediately contributed to the offense since coming off injured reserve is second-round WR Denzel Mims. After missing all of training camp and the first six games of the season with a hamstring injury, Mims has led the team in receiving yards in back-to-back games and has totaled 6 catches for 84 yards (14.0 avg).
"I think the last few weeks you've seen some positive things from him, especially for a guy who's really had two weeks of practices prior to playing in two games," Douglas said. "I mean really this is almost like the end of training camp for him in terms of the amount of actual professional football reps that he's had. We're really excited about seeing his progression these last eight games and what he brings in terms of his catch radius, ball skills and route running."
DL Quinnen Williams is another young Jet who's played well, though he wasn't drafted by Douglas. Williams, 22, was the No. 3 overall pick in 2019. He has 31 tackles this season, 7 tackles for loss, 3 sacks and 11 QB hits. There was speculation, however, that Douglas would be willing to trade Williams, which Douglas told the media was incorrect.
"My perspective on Quinnen is Quinnen plays a premium position at D-line," Douglas said. "Offensive and defensive line matters. It's the foundation of what we want to be. He plays a premium position at D-line. He's an interior pass rusher, that I think has gotten better every week. And he's not a good person, he's a great person. I think the focus is to keep as many of those people around as possible."