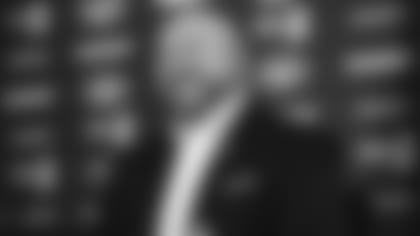 Few were surprised when the Jets used the No. 2 overall pick in the 2021 NFL Draft to select quarterback Zach Wilson. Then General Manager Joe Douglas moved up nine spots in a multi-pick swap with Minnesota, selecting offensive lineman Alijah Vera-Tucker at No. 14. And the Jets stayed on the offensive side of the ball in the second round as Head Coach Robert Saleh gave his new offensive coordinator Mike LaFleur another playmaker, holding tight to the No. 34 pick to take receiver Elijah Moore.
"We're excited to get guys we all had ranked as first-round caliber," Douglas told reporters on Friday night after adding Moore. "The idea is for them to come in and compete to earn a spot and become impact players. We're adding people of the highest caliber of character and feel good about the first three selections."
Though Saleh said that LeFleur was giddy on Thursday night when the Jets braintrust realized that Moore would still be available early in the second round, he acknowledged that the focus on offense should not be mistaken for a lack of attention to the defense on Day 3, when the Jets have six picks, two each in Rounds 4, 5 and 6.
"This is really the way the board fell this year," Douglas said. "We haven't taken a defensive player yet, but right now we have at least six more chances to do so. I'm not going to leave Coach Brich [defensive coordinator Jeff Ulbrich] hanging."
With Friday an early night because the Jets were without a pick in the third round after the trade with the Vikings, the Jets were celebrating an impressive two-day haul of quality young players.
Wilson and his family traveled to New Jersey on Friday and visited the Jets Atlantic Training Center in Florham Park. They toured the facility, and Wilson had lunch with coaches and team personnel.
Asked if he had any concern about joining a locker room as a rookie, Wilson said: "It's funny because at BYU we had a bunch of older guys, too, because of the missions. I'm used to it. Surrounded by people with the same goal and drive direction, you come together, all grinding and playing to win games. Once I'm in the locker room I'm going to show them that I'm giving my all."
Though Saleh would not say that Wilson would be the starter in September, he conceded that one reason he and his staff were drawn to Wilson was because BYU played an offense similar to the one the Jets will use this season.
"In college they ran a lot of our system," Saleh said. "You can see him making our throws, over the middle, bootlegs. I can see all of it. During pro day [in Provo, UT] they ran the routes we run so we could see him. He can have success in our system."
The trade with Minnesota brought the Jets another protective shield for their rookie QB in USC offensive lineman Vera-Tucker. After obtaining the No. 23 overall pick from Seattle in the Jamal Adams trade, the sight of AVT still on the board at No. 14 was too good for Douglas and Saleh to pass up.
"Where we were at 23, we had a unique opportunity to get a top-10 player," Douglas said. "We like Alijah Vera-Tucker ... he started at tackle and guard and was highly productive highly at both. That's something that we really value. He has a great opportunity to come in and compete. We have a lot of guys on the offensive line, but he played a lot of positions. He's going to come in and compete and ultimately we will have the best five on the line on opening Sunday."
AVT, who some analysts pegged as the best offensive lineman in the draft, could well end up lining up to Mekhi Becton on the left (blind) slide of the line protecting Wilson.
"I'm real physical, I have a high IQ for the game, quick feet get to second level quick, quick hands," Vera-Tucker said. "Bring it all together and you have a dominant player."
Douglas and Saleh said that the Jets were pleasantly surprised that Moore, an explosive receiver from Ole Miss who can line up in the slot, wide or in the backfield, would still be available at No. 34.
"He's dynamic when he gets the ball in his hands and then becomes something different," Saleh said. "He has the ability to separate in routes. He's extremely versatile. We're ecstatic he was able to get to us at 34. For us, there's not a lot of things he can't do."
On Saturday, the Jets will have an opportunity to add depth and developmental prospects in the later rounds.
"Day 3 is a great opportunity to turn a good draft into a great draft," Douglas said. "Our scouts do such a great job and they live for Day 3. They come up with the guys not many people know about. So many times we've seen these guys can become impact players. It's a great opportunity [for us] to really put a great stamp on this draft."