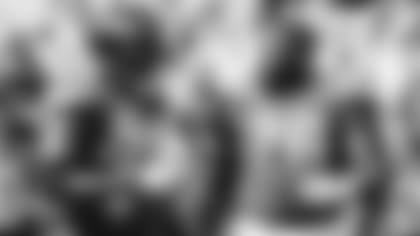 The Jets' offensive line had its well-dissected struggles in the Carolina opener: 45 rushing yards at 2.6 a pop, six sacks and 10 hits on rookie QB Zach Wilson.
And now, with LT Mekhi Becton down and out for a while, the line is undergoing a major shakeup of its bookends, all while preparing to take on old foe New England lying just around the bend for the Green & White's home opener at MetLife Stadium on Sunday. "That's a good front," Fant said. "Their D-line is good and their defense is good as well."
Does this sound like a difficult matchup on the offense's classroom blackboard and whiteboards? Well, maybe. But then again ...
"I think the most important thing is that we got that game out of the way," Moses said following Wednesday's practice. "We looked at the film, we know the corrections we need to make. We have to all be of one accord."
The reason this can work out for the Jets are those two large gentlemen's combined body of work and relationship. Fant, now Becton's LT replacement, and Moses, who moved in at RT at Carolina after starting the game as Fant's right-side backup, have combined for 11 full NFL seasons, 166 regular-season games and 136 starts.
While Fant admits it's "very tough" to transition in-season from RT to LT — "Things happen and you have to adjust," he said, "but it definitely is a hard transition" — he's not unfamiliar with the left side, having started 16 games at LT, three of them playoff games, for Seattle before moving in as the Jets' RT starter last season.
And while Moses agrees that there isn't much wiggle room — "The coach calls the play, we've got to execute," he said — he's got even more experience at the position he's moving into. Even though his 96-game starting streak, all at RT for Washington, was severed vs. the Panthers, he's played almost 6,000 offensive snaps there in the last seven seasons.
Another point in favor of the Jets' bouncing back against the Patriots is that Fant and Moses are not your typical position competitors fighting tooth-and-nail on the field and staring knives and icicles at each other in the meeting room.
"It was real cool," Fant said of the offseason and preseason of battling Moses for the gig, "because we've worked out a lot together in previous offseasons. Man, I learned a lot from him. It was not one of those competitions where we were not speaking to each other. We were coaching each other up. ... I like this guy, I like this guys' family. We've been close for a while. That was the cool part."
Now all the tackles need to do is help keep the Patriots front seven from plugging all the gaps in the Jets' running attack and from swarming over Wilson when he drops back. On the ground, Fant insisted, "We're right there, right there." And Morgan feels with Wilson's demonstrated toughness and cool under pressure and everyone on the line building on the unit's collective trust factor, the air game has the chance to look for 60 minutes like it did for the final 20 minutes of the opener, when the Jets made it a one-score affair.
"Growth is a weird thing, right?" Moses said. "Personally, I think growth is what you make it. Some things we need to correct now. It's not going to happen overnight, Rome wasn't built overnight. It's a timing thing, and it takes all 11 to operate an offense. So once we get to that point where we're jelling together, we've got the players. It's just about being on the same page and going out there and playing."
"Everybody's hungry," Fant said. "We want to keep getting better. No one in that room has got their head down. That's what this game is, man. The moment you start feeling down for yourself, that's when everybody starts counting you out. We're making sure we up our game."