The Jets have re-entered the building.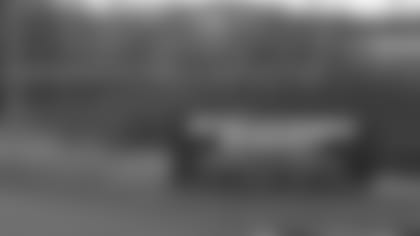 And no one was more enthusiastic about the start to our voluntary offseason program at the Atlantic Health Jets Training Center this morning than Geno Smith.
"It feels great," said Smith, the second-year QB, shortly after joining his teammates for the welcome-back team meeting from head coach Rex Ryan. "I got a chance to see all the guys' smiling faces, got a chance to hear Rex again for the first time since last year. So it feels great just to be back here. I've been here for a while, but to see all the guys and just how eager everyone is to get back to work is very fulfilling."
Of course some of the players aren't returning to the facility but are rather showing up to work for the first time. Such as Michael Vick. Smith, speaking about Vick's presence on the roster, said the veteran QB brings experience and competition to the team.
"First of all, he's a dynamic player, a guy I can learn from and can work with," Smith said told Senior Reporter Eric Allen, adding about the competitive aspect that Vick brings to the quarterbacks room. "Yes, yes, that's what we're all about is competition here at every position. Yes, I am embracing it and I look forward to it."
Another player on the offensive side who's new to the building is unrestricted free agent signee Eric Decker.
"It's cool. It's a different environment for me," said Decker, the former Broncos WR. "I'm excited for this opportunity, excited to get to know my teammates a lot better. This is one of the best places to come and practice every day."
Decker was asked about some of his new offensive teammates, such as Vick and RB Chris Johnson.
"Both of those guys have had success in this league," he said. "They've got that knowledge and their experiences. They're very explosive players. It's just more competition. That's what Coach Ryan and [general manager] John Idzik are trying to do around here is build a team full of competition to get the best out of everybody."
Decker was informed that Smith had some recent on-air compliments about him, calling him "a tough guy, a tough dude."
"I appreciate that, Geno," he said to the camera. "He's a guy that's got lot of potential. He's going to do some great things, I think, in this league. I'm excited to work with him and see him grown and help in any way I can, in my experiences with a guy like Peyton Manning and others."
All the players walking through the double doors of the players' entrance appeared to feel that potential. As Smith said of the next nine weeks:
"It's going to be huge for me and the rest of our teammates, for all of our cohesive efforts, just to get together and start preparing ourselves for next season and really do a lot of team bonding and also get stronger and faster out here."
As Ryan told reporters in a conference call this afternoon, "I feel kind of a buzz and just a little pep in everybody's step as they're walking in. I think this entire football team is excited about this season and getting together with each other and having at it."
And in the tweeted words of C Nick Mangold:
The Jets today began the two-week Phase 1 of the program, during which only strength and conditioning with strength coach Justus Galac's staff and physical rehabilitation with head trainer John Mellody's staff, plus classroom instruction are allowed.
Phase 2, which allows some on-field instruction, then goes for three weeks, and Phase 3, which includes 10 OTA days and concludes with the three-day mandatory minicamp from June 17-19.
Players arrive back at Atlantic Health Jets Training Center for the start of the 2014 Voluntary Workout Program