The Green & White are preparing to take a leave of absence from the Atlantic Health Jets Training Center in Florham Park before reconvening for training camp at SUNY Cortland late next month.
Before departing, however, both Geno Smith and Michael Vick addressed the media, and both of our could-be No. 1 QBs expressed satisfaction with the minicamp that was.
"I'm just continuing to work hard and continuing to get better," Smith said. "I was very pleased with the way that we came out and performed this minicamp. We competed hard every single day. I really saw guys getting better. It's a promising sign for us, but we've just got to take it upon ourselves to continue to work hard."
"I feel good out there. I feel relaxed and feel comfortable each and every day," Vick said. "It has been a great camp. It has been a great camp for all of us. I think this team is going to be dynamic this year."
If anyone should qualify as knowing what a "dynamic" offense looks like, it'd be Vick. He is considered one of the most dynamic quarterbacks in league history thanks to his flick-of-the-wrist downfield bombs and his zero-to-60 burst past defenders, and he's coming from the fast-paced, record-setting Chip Kelly offense in Philadelphia.
Vick did say this offense *will *be dynamic though, not "is," and a lot of work still needs to be put in to get there, beginning with consistency.
"It's not always going to be there," Vick said. "You are going to have your days where everything is not running smooth. I think as of right now we're putting in the effort to be the best that we can be day in and day out and that comes from concentration, that comes from discipline and everything that comes along in a good football team."
The task of finding consistency might be particularly difficult to achieve before the start of the season with Vick and Smith rotating in and out of practice reps with the ones, but the back-and-forth nature won't be used as an excuse for poor performance by either competitor.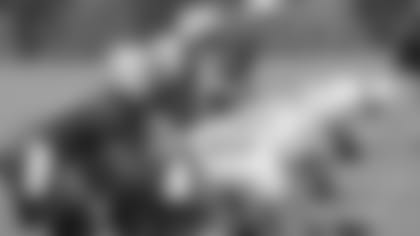 "I think being the quarterback, you have to prepare to win," Vick said. "You have to be prepared to go in and play at any time. You never know when your number is going to be called. The backups have to prepare like the starters, and I'm not going to say that's the case, but I want to make sure that I am ready for any opportunity at any given moment."
"Any time you get reps, it's beneficial," Smith said. "You want to get reps. You want to continue to rep it and you can never rep it enough. As many times as I can get reps with the guys and us just getting on the same page, it's going to be good for our offense."
While Vick has the advantage of experience in the league with 134 games played, including playoffs, Smith has a 16-0 edge on Vick when it comes to games played with the New York Jets. Smith's goal now is to use his rookie season as a springboard into year two.
"I'm just trying to continue to build on that," Smith said, "continue to improve, be a sponge, soak up every single day and every single rep and just get better. I think we'll be better as an offense, but it takes a ton of hard work and we're really only just getting started."
A look at the Jets QBs during the 2014 OTA's