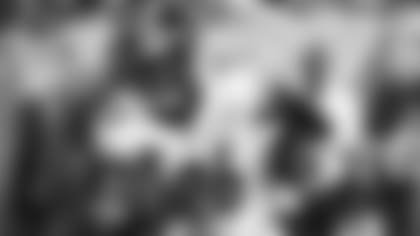 Getting a great talent for your team is one thing. Using him to his and your best advantage is another.
Adam Gase is confident that he has the scheme and the approach to optimize Le'Veon Bell's impact in the Jets' offense.
"Especially when we start the year, we have a blueprint but it's in pencil, and we're able to move and shift in the direction of the strength of our players," Gase told reporters after the coaches' breakfast at the NFL Annual Meeting in Phoenix on Tuesday.
"We'll easily be able to adapt to what Le'Veon does in the run game. It's just going to take more of the chemistry part of line, him, quarterback, receivers, tight ends, everybody just getting used to playing with each other. And the run schemes that he's really good at, we'd be fools to not to do those."
One Bell trademark is his "wait, wait ... EXPLODE" running style. Another is his receiving skills. They combined to put him in the NFL spotlight in 2014, when he posted a career-high 2,215 yards from scrimmage, and '16, when he was a driving force in the Steelers' run to the AFC Championship Game.
"Everybody knows his patience is unique," Gase told Eric Allen of newyorkjets.com. "You don't see a lot of running backs that do what he's done in the past and what he's shown on tape. It's just going to be about chemistry and reps, whether it be through spring, training camp, even the beginning of the season when we get going with live contact, how that is all going to work out."
One thing that Gase is well aware that he has to monitor is Bell's activity. He's still young and coming off sitting out last season in Pittsburgh. However, his 406 offensive touches in 2017 were the most by an NFL player in a season in the last four years. And even after missing a year, from 2014-18 he still leads the league in touches and leads all backs in offensive snaps:
Table inside Article

| Back | Team | Touches | NFLRank | RBSnaps | NFLRank |
| --- | --- | --- | --- | --- | --- |
| Le'Veon Bell | PIT | 1,252 | 1st | 2,932 | 1st |
| Todd Gurley | LRM | 1,229 | 2nd | 2,809 | 2nd |
| Mark Ingram | NO | 1,169 | 3rd | 2,446 | 4th |
| LeSean McCoy | BUF | 1,060 | 5th | 2,448 | 3rd |
"I've always felt like I have a good feel of when a guy is either fatigued or we're heading in a direction of maybe we're wearing him down," Gase said. "I think we'll start early to where he'll get a certain amount of reps that we use. I mean, he is a veteran running back, he plays a position that's very physical. You can wear a guy out with too many rushes, too many touches, too many snaps, too many practice snaps. We'll keep an eye on that."
But one of the biggest indications of how well the Jets use Bell is how much his presence enhances the play of second-year QB Sam Darnold toward winning games.
"Anytime you put another veteran player with a young quarterback, that's a positive," the Jets coach said, "especially a guy that's been on a team that's a playoff team, he's been with an organization that's consistently won. He knows what it looks like. he knows what you have to do day in day out, practices, meetings, preparing for the season, in-season preparation. I think anytime you add a guy like that, it's a positive."