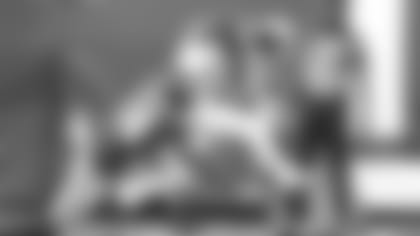 WR Garrett Wilson is about to begin only his second season in the NFL and QB Aaron Rodgers is about to begin his 19th season, but the chemistry between the young, budding star and the wily veteran was unmistakable on Saturday night when the Jets defeated the Giants, 32-24, in the preseason finale for each team.
Wilson and Rodgers played only the first two series of the game, but they connected on three passes for 30 yards, including the game's opening score -- a pinpoint 14-yard dart from Rodgers to Wilson along the far sideline.
"We put in the work throughout the week to have the results and be able to come here on Saturday," Wilson said. "Everything feels real."
Since the start of camp, Rodgers has been generous with his comments about last season's Offensive Player of the Year, and there was nothing Saturday night to leave the impression that Wilson will not pick up where he left off once the regular season starts, on Monday night, Sept. 11 against visiting Buffalo.
"We've had a lot of conversations on and off the field, text messages, about certain things," Rodgers said. "It's nice for them to show up in a live situation. We held back a lot of things, we were not sure what Wink [Giants defensive coordinator Wink Martindale] was going to throw at us. There were eight guys up front on the first and second plays. We picked some up and Garrett made some good plays."
Rodgers' scoring toss to Wilson completed the Jets' four-play, 52-yard drive that took only 1:53 midway through the first quarter. Rodgers set up the scoring play after a 10-yard pass play to Mecole Hardman that took the ball to the Giants' 14.
"It was supposed to be a run play to the right, but [center] Connor [McGovern] made a nice call up front," Rodgers said. "There was zero pressure, I looked at Garrett and we made an adjustment on the backside after I hit him in the Tampa Bay practice. This time he did an outside release. I didn't waste any time, he's pretty easy to throw that ball to. I've made a lot of throws like that over the years. He had those late hands, which is important because the DB is waiting for him to put up his hands. It creates separation."
After the game, Wilson said he's been able to ease himself into the new offense installed by OC Nathaniel Hackett largely because of the help and advice he's received from former Green Bay players -- Allen Lazard, Randall Cobb and Malik Taylor. Still, the rapport Wilson has developed this quickly with Rodgers provides a tantalizing hint of what is to come.
"Having those guys around has been huge," Wilson said. "With Aaron, the main thing is that he's made the transition smooth for me.
"Just the way we go about our business during the week, every rep is important, every rep is magnified that we get as far as out on the practice field. I know he approaches it the same way. Eventually we want to be able to do stuff like that on the field when it matters on Sunday."
Speaking about the TD pass, Wilson said: "Just a great throw from Aaron. He's so precise and has an answer to everything we see, so I just have to do my job at that point and finish the catch."
In the first team's first live play of the preseason, the connection between Wilson and Rodgers, while certainly still a work in progress, looked seamless.
"It's fun, man," Wilson said. "Aaron makes football a whole lot of fun."