This Sunday we host the New England Patriots at 1:00pm. The game is presented by JetBlue. Upon entry, fans will receive a free JetBlue giveaway. Enjoy the fall foliage of Oktoberfest spread out all around the Plaza before heading to your seats to create a real home field advantage!
Parking lots open at 8:00 a.m. (See Parking FAQ)
Will Call opens at 10:00 a.m. (See Will Call on Stadium Map)
Stadium gates open at 11:00 a.m., and player warmups start at about 11:30 a.m.
This week the players will be wearing green jerseys and white pants.
National Anthem: Lilan Garcia
Halftime: Youth Football
Be sure to print out the Roster Card for Sunday's game. The Roster card will also be available in the Jets Mobile app
What's Happening on Gameday
Pregame: Visit the island outside the gates between the Verizon and MetLife gates. The island is packed with fun activations pregame. Play games, win prizes and purchase $5 Bud Light cans, all at this prime location before heading into the gates.
During the Game: Let's Get Loud! Season Ticket Holders will receive 2x the points for Fan Assists all game long.
Post-Game: Take an Uber home from the game. The designated pick-up location will be in Lot E. Have Questions? See an Uber Brand Ambassador in Lot E!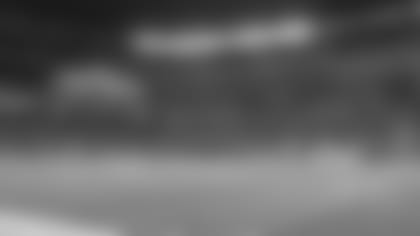 Home Food Advantage: Nonna Fusco's Meatball Sub: Today $8, Regularly $9
Jets Shop Item of the Week: All Youth Apparel: 15% Off
Giveaway: All fans will receive the JetBlue JetUp Giveaway
Jets Rewards
Jets Rewards 10-Game Club: You're halfway there after you scan in for the Patriots game! Scan in to get closer to joining the 2017 Jets Rewards 10-Game Club! If you scan into all 10 home games with your card or a mobile barcode (new for this season!), you will receive 16,000 bonus points to spend on great experiences and memorabilia.
FREE food, beverage, and merchandise for Jets Rewards Members: You have money preloaded on your Jets Rewards card(s)!  Simply tap your card to pay at retail and concessions stands around MetLife Stadium.  For details and to see the balance on your card(s), visit the Jets Rewards Portal here, and click on "Load Cash & View Balance" under Jets Cash.
Jets Flight Crew Cheerleaders
Meet members of the Flight Crew Cheerleaders from 11:30 a.m. – 12:15 p.m. at the following locations:
ESPN Radio at the MetLife Gate
Victorinox
Bud Light Activation
The Island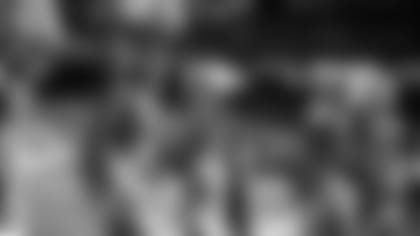 On the Island (Outside the Gates between Verizon and MetLife Gates)
Bud Light Beer Garden:Head to the newly located Bud Light Beer Garden outside the gates between the Verizon and MetLife Gates. Enjoy the DJ playing all the Top 40 hits while sipping a $5 Bud Light while chatting with Jets Legend Wesley Walker and the Jets Flight Crew Cheerleaders.
Victorinox:Come visit the Victorinox tent located between lots G & f. Jets Rewards members will receive 250 points for visiting the tailgate. Rod Gray will be on-site cooking brisket and handing out sunglasses, koozies and mini footballs.
Highland Park:You can't miss the Highland Park Whiskey ship located on the island. Fans can participate in fun games, win prizes and take photos at their Highland Park themed photobooth.
M&T Bank:Visit the island between the Verizon and MetLife Gates to stand in front of the green screen photobooth with take-home souvenir printouts, play Plinko to win Jets giveaways and more.
Sharp VR Lounge:Go behind the scenes with the new Sharp Virtual Reality Lounge located next to the Bud Light Beer Garden outside the gates between the Verizon and MetLife Gates. See what it is like to run out of the tunnel with the players or see if you have what it takes to make the passes to drive your team down the field in the new QB experience.
BASF: Before heading into the gates, come visit the BASF Tent located right outside the MetLife Gate from 10:30 a.m.– 12:30 p.m. Jets Season Ticket Holders will have the opportunity to earn 250 Jets Rewards points as well as learn more about innovative products and solutions created through chemistry. Also, all fans are invited to enjoy opportunities to win prizes and giveaways, including a chance to win signed Jets memorabilia. To create a more sustainable gameday, BASF volunteers will be roaming the lots distributing recycling and trash bags to various tailgates. Fans can be featured on the stadium videoboard in-game by uploading a picture of their sustainable tailgate to Instagram or Twitter by using the hashtag, #JetsGoGreen.
TSA Pre✓®: Hate waiting in-line at the Airport? Well it all ends Sunday. If you bring your passport and visit the TSA Pre✓® Mobile Enrollment Center your next line at the airport will be a breeze.
Pre-enroll here
Choose Schedule an Appointment and then Apply Now.
Fill out steps 1 through 4, Step 4 of 4,  type in your location "East Rutherford, NJ"

You will be prompted to a scree to click "MetLife Stadium"
Bring your passport to the Mobile Enrollment Center on the island between the MetLife and Verizon Gates
When you enroll at the game on the 15th, you will receive a $20 MetLife Stadium Gameday Gift Card (while supplies last). Enroll now in TSA Pre✔® and become part of an expedited security screening program that helps save time and reduce stress.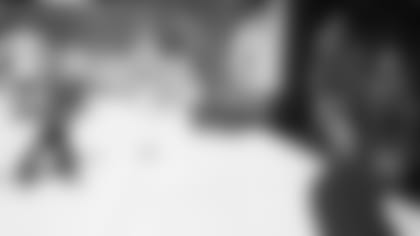 On the Plaza
ESPN Radio: ESPN Radio will be broadcasting pregame on the MetLife Stage from 11:00 a.m. to 1:00 p.m.
Gen Jets Kids Zone, Presented by M&T Bank: Let's have some fun! The younger fans can play on the inflatables and dance with the DJ, playing all the fun kid friendly tunes. Visit the Gen Jets Kids Zone, supported by Modell's, located between the Verizon and SAP Gates. Kids 4-12 can sign up for the free Gen Jets Kids Club for exclusive access.
Jets Experience:Show us your Touchdown Dance and best pose. Come by the Jets Experience and see for yourself. Activations include a Joe Namath bobblehead, Flight Crew Cheerleader stand & pose and much more.
MetLife:Make MetLife Central your ultimate fan destination on gameday at MetLife Stadium! Meet Jets Legend Damien Woody for an autograph signing from 11:00 a.m. – 12:45 p.m. Create a customized commemorative ticket with friends and family to print, wear, and share socially during the game. If it is your first game at MetLife Stadium, be sure to stop by the Benefits Desk to pick up MetLife My First Jets Game swag and prizes!
SAP:Come inside the SAP Gate and listen live as SNY's Jeané Coakley and Jets Legend Joe Klecko to discuss the home Jets schedule 11:30 a.m.
Toyota:Visit the Toyota displays on the MetLife plaza for some "car-nival" style fun. Play Don't miss taking on the Sienna Storage Challenge - it's a race against time to see how fast you can fill the Sienna's cavernous cargo area. Show your Toyota Keys to win special prizes.
Premio:Pregame, be sure to stop by and get a free sample of Premio sausage in Lot G.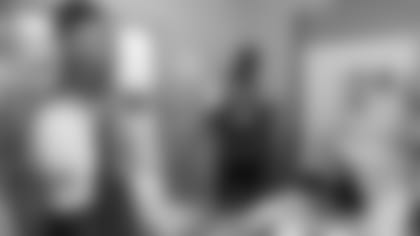 The New York Jets and Atlantic Health System are partnering in the fight against pediatric cancer as part of the NFL and American Cancer Society's "Crucial Catch: Intercept Cancer" campaign. After nearly a decade of supporting breast cancer, the Jets, NFL and American Cancer Society have evolved the campaign to address early detection and risk reduction efforts for multiple cancers, including pediatric cancer, to increase our impact.
Prior to kickoff, four children who are undergoing or have completed treatment at the Valerie Center at Goryeb Children's Hospital, part of Atlantic Health System, will serve as honorary captains for the coin toss. In addition, the Jets and Atlantic Health System will give one patient who cannot attend the game due to treatment the experience of being on the sideline for pre-game warm-ups with the VGo Robot. Designed for children with extended illnesses, immune deficiencies and other physical challenges that prevent physical attendance, the VGo robot provides an essential element for a child – the ability to participate in classroom and social experiences. For more information on how to help the Jets and Atlantic Health System fight pediatric cancer please go to AtlanticHealth.org/Jets.
Fans First
Show our young fans how to represent Jets Nation. If you see someone's passion cross the line and set a bad example for our young fans, text the word JETS to 78247 or call the Jets Guest Service Hotline at 201-559-1515. Remember, young fans will follow your lead, so please be respectful.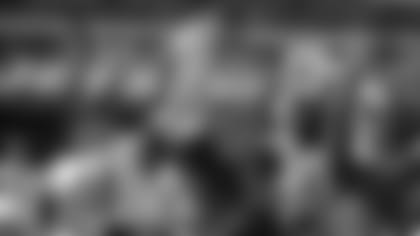 Enhanced Public Safety Announcement
The NFL's carry-in bag policy will be in effect for the 2017 season to ensure a safe and secure game environment. Make sure you share this information with your family and friends attending the game! Fans may bring only the following style and size bag into the stadium:
Bags that are CLEAR plastic, vinyl or PVC and do not exceed 12" x 6" x 12" in size.
One-gallon clear plastic food storage bag.
Small clutch bag approximately the size of a hand (4.5" x 6.5"), with or without a handle or strap — this can be carried separately or within a clear bag.
Prohibited bags include, but are not limited to: all purses, bags or containers larger than a small clutch bag, coolers, briefcases, backpacks, fanny packs, cinch bags, luggage of any kind, computer bags, and camera bags; seat cushions are also prohibited. For more information visit http://www.nfl.com/allclear.
NFL Ticket Exchange
Can't miss it? Can't make it? NFL Ticket Exchange is the only Official Ticket Exchange of the NFL where 100% of tickets are verified by Ticketmaster. Buyers get in guaranteed and sellers enjoy automatic payment. Buy or sell tickets the NFL-approved way at NFL Ticket Exchange.