Growing up in Venezuela until she was 7 years old, Natalie spoke Spanish before moving to the United States and learning English as her second language. In the midst of Hispanic Heritage Month, it seems fitting that the Flight Crew's only bilingual member would be this week's Gameday Girl.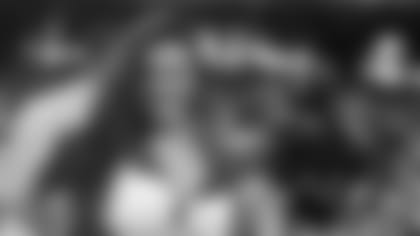 "Being Hispanic, I am very prideful and proud of my heritage," she said. "To be able to represent my community in this game versus the Bills is pretty awesome and makes me very proud of myself."
Raised by a single mother as her father dealt with a serious illness, Natalie didn't grow up immersed in sports — although she's now a diehard Jets fan — but she's always had a passion for dance.
As a teenager in South Brunswick, N.J., her daily routine consisted of going to class, babysitting, and practicing dance, in that order. Things changed, though, when she received a long and discouraging list of reasons why she failed to make her high school dance team.
"I went home and cried," she said.
But she didn't give up on pursuing her dream.
"My dad was sick for most of my life, but he's healthy now," Natalie said. "My Aunt Deborah told me that I need to keep pushing for my father because he overcame a sickness that not everyone is able to overcome. That touched me a lot, and I'll always have that in my brain."
Natalie, now a 23-year-old student, tried out for her college dance team and made it, but soon after her aspirations shifted toward the NFL and the New York Jets.
"I often visited the Flight Crew website," she said. "Their classy and amazing performances caught my eye whenever I surfed the web for different dances. I always admired them, and while I never thought I'd make the team, I've always wanted to."
She didn't let her fear of rejection stop her, and while she "would have tried out 1 million times in a row just to make it," that turned out to be unnecessary. Natalie auditioned and made the squad on her very first try.
While her rookie season presented quite a few challenges, this year has been very rewarding, due in large part to Natalie's involvement with the 2014 Flight Crew Swimsuit Calendar.
Receiving an invitation to the five-day photo shoot in the Cayman Islands was in itself a blessing, she said, as only 17 girls even flew down. However, making the trip doesn't guarantee inclusion in the 16-month calendar.
Yet Natalie made the calendar not once but twice, for this month, September/October 2013, and for the back cover.
"I'm very shy when it comes to posing in my bathing suit," she explained. "I've never done anything like that before, so it was kind of a different feeling. It's really cool because I was able to break out of my shell a bit, and it was a good experience."
And that good experience would never have come about if not for Natalie's never-give-up attitude.
"Throw me down, push me down, I'm still going to get up and keep pursuing my dreams," she said. "I wasn't the best dancer and am still not, but I'm honored to be a part of something so great."