By the fourth quarter of the Jets' season-opening win against the Cowboys, the game had turned into a spectacle. As a furious fourth-quarter rally led to an eventual Jets win, second-year veteran Flight Crew member Karen recalled the raucous scene at field level.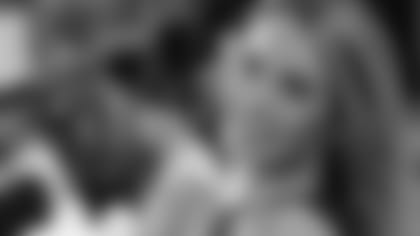 "That was the most exciting two minutes of my life," she said. "We were supposed to be dancing on the sidelines, and I told my girls, 'It is so loud in this stadium right now, there is no way you can hear me count.' Everybody was so entranced by those last two minutes that we couldn't even dance if we tried."
Considering the magnitude of the date, Karen recognizes that night as one of the most memorable she has ever experienced.
"I'm from North Carolina, and obviously September 11th affects New Yorkers differently than it does North Carolinians. But to be up here on that day, in front of almost 82,000 people, it was a pinnacle moment for me."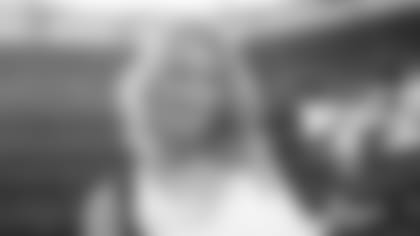 Born and raised in Durham, N.C., Karen had planned on making her home in Charlotte. However, an unexpected demand from her husband Jeff's employer led the two to pack up and move to New York City mere days after they were wed.
"We decided it was for the betterment of our future to come up here and take on the big city," she said. "We came up here to fulfill his dreams, but in reality, I'm fulfilling mine, too."
Karen and Jeff met in an advanced placement chemistry class in high school and have been together ever since. Now having lived in New York for two years, Karen has noticed how the city has changed her.
"When I moved up here, I was kind of shy, hesitant to go for things, and I was worried the big city was going to overwhelm me," she said. "Two years later, I can say that I have a wonderful job, I'm fulfilling my dreams of dancing in New York City, I'm more confident, more outgoing, and I'm proud of myself."
When she's not rehearsing or performing on gamedays, Karen works part-time in the corporate offices of Teach for America, a national educational not-for-profit organization. She juggles her job with her duties for the Flight Crew, which have been increased this season thanks to her promotion to group leader. In her second season, she is the least tenured of the four group leaders.
"It's a really big accomplishment and one that I don't take lightly for sure," she said. "I work really hard at it so that I can be a veteran that rookies can look up to and that other veterans can respect and trust."
Karen began dancing at the age of 6 and has pursued her passion throughout her life. A member of her high school's cheerleading squad, she went on to join the dance team at Elon University. Now 25, she tried out and earned a spot on the Flight Crew in May 2010.
"It means everything to me. It's kind of the culmination of my dancing career," she said. "To be able to say now that I'm dancing professionally in New York City is just the be-all and end-all for me."
As the Jets try to improve their record to 2-0 on Sunday afternoon against the Jaguars, Karen and the rest of the Flight Crew hope the atmosphere is similar to that of opening night.
"I think that is the loudest I've heard a football game, ever. The roars and the yells would literally reverberate through you. They would rumble the ground, and we were like 'Wow!' "