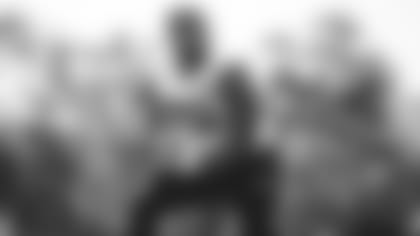 Over his 18 seasons in the NFL, it makes sense that Jets QB Aaron Rodgers has crossed paths with an impressive roster of opponents -- some of whom are now late-career teammates.
"I've known Aaron for a long time, I played against him with Detroit and San Francisco," G Laken Tomlinson said during this week's OTAs. "I know him, the good and the bad. He's amazing. Getting to work with that caliber of player makes everyone better. Not only the offense, but the defense as well, exposing those guys to some high-level stuff. Things have been working really, really well."
He added: "He's a fantastic player. I've played against him since my rookie year, he's an MVP player. Golly, what else can you say?"
Tomlinson, one of the savvy free-agent acquisitions by GM Joe Douglas ahead of the 2022 season, played with the Lions against Rodgers and the Packers twice in each of his first two seasons in the league (2015-16). Tomlinson was traded to the 49ers before the start of the 2017 season.
"He makes a difference with his confidence, with his communication," Tomlinson, 31, said. "Working with someone of that caliber makes everyone be on their A-games everyday."
Tomlinson was the rare offensive lineman for the Green & White last season. After signing a three-year deal with the Jets, he locked down the left guard position and played 100% of the snaps on offense, a total of 1,112 over the 17-game regular season. That durability should not come as a surprise to anyone -- Tomlinson has played 100% of his team's offensive snaps in four straight seasons, and in 5 of 6 between the 49ers and the Jets.
"You can see we have the talent in our room," he said. "Injuries are a part of the game and unfortunately we had some last year. That's last year. Now we're coming back healthy and looking to build on that health and create a special line this year."
Expected back from injury are Alijah Vera-Tucker, Mekhi Becton, Duane Brown (who powered through before undergoing rotator cuff surgery) and Max Mitchell. In free agency the Jets added Wes Schweitzer, Trystan Colon and Billy Turner. The Jets also drafted Carter Warren and Joe Tippmann and Douglas re-signed veteran center Connor McGovern. And there are other options as well.
"You got to go one day at a time," Tomlinson said. "OTAs, learning the X's and O's, learning from [OC Nathaniel] Hackett, [O-line coach] Keith [Carter] and [D-line coach] Aaron [Whitecotton]. You have to go back to ground zero. Outside looking in there are high expectations, but none higher than your peers and coaches, those are the guys we expect to hold us accountable. We hear the outside stuff, but it's the guys in the room. People can say what they want, but we see where this team's going. If we're blessed with some health, we're going to be a scary team."
Keeping Rodgers vertical and throwing darts down the field will be Job 1 for Tomlinson and his teammates on the offensive line.
"As soon as he signed, even before when he said he wanted to be a Jet, I went back to watch some old games I played in against him," Tomlinson said. "Going through what he can do and then seeing it live, in OTAs, it's really cool. Just to see the workings of everything playing out, the thought process behind everything he does. It's just really cool.
"Just learning everything he brings to the table helps our offense a lot. It's been great working with him. Amazing."
And it has only just begun.
See the best photos of the Jets during the eighth OTA on Tuesday.