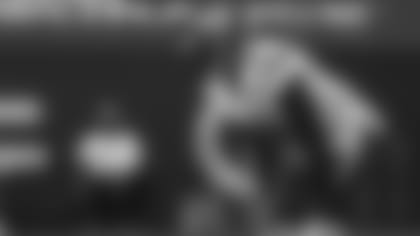 Frank Gore, 37, who this season became only the third NFL running back to reach 16,000 rushing yards (Emmitt Smith and Walter Payton are the other two), said on Tuesday that he's not quite ready to transform his Sunday's in the fall into lazy days in the garden.
Asked on a Zoom call if he was ready to announce his retirement after 16 seasons in the NFL he said: "Not yet."
"I'm going to get some down time with the fam down to Miami," he said. "Chill out with my kids and I'll see what's up. I still have fun. I haven't made a decision yet."
In his 14th and final carry of the Jets' victory over Cleveland in Week 16, Gore landed smack on 16,000 yards and finished the season as the team's leading rusher with 653 yards in 15 games.
"When they [the Jets] decided on me, let's be real, my age, you had some doubts," Gore said to reporters. "Let's be real. I would have had doubts, too, I'm not going to lie. I had a great time here. These young guys, they worked their behinds off."
Though Gore often took on the role as the team's elder statesman, a mentor and confidante to the team's younger players, it wasn't all talk. He led by example. He was often the first player at training and the last to leave. During training camp, he was often seen doing extra sprints on the practice field long after his teammates had called it quits.
The message: Do what I do and listen to what I say.
"I think this organization has great people here," he said. "I think Joe [GM Joe Douglas] did a great job with the rookie class. Once he gets another class it will help the team. More fast, tough guys, not saying these guys aren't, I think they'll be fine. It will take time. It's a very young team. Once Joe gets some more guys to step on the field and show they can play I think they will be fine."
To a man, when asked his teammates marveled at his commitment to the game and Gore's professional approach. He's soft-spoken and a man of well-chosen words. After playing in every Jets game this season, a bruised lung sustained against Cleveland kept him out of the season finale -- at New England -- last Sunday. Many have speculated that injury and age would prompt Gore to retire after he fulfilled his one-year contract with the Green & White.
Asked if he's going to keep playing, Gore said: "Basically, it's who wants me. If I want to play for a team that wants me, to help a young guy who wants to be a better pro. A team who can win, things like that.
"This team I think needs to bring in more veteran guys in rooms to show the young guys what it takes to be a pro. To show you can't get comfortable. This team is very young. It should have a veteran in every room who's had success, loves the game and can show them what it takes. Guys who are coming in first, working in the weight room, taking notes. This team, they don't really know. They haven't won yet. They need to get some guys to show them what it takes."
A couple of quick hits:
On Jets QB Sam Darnold: "He's very talented, he loves the game and is tough. I think he's tough because of the type of year he had, hurting his shoulder he could have easily packed his bags and said he's done. He didn't, he wanted to play and wanted to finish. I think he just needs to get ... I think Joe will do it, he'll get it right, more players around him. He [Darnold] wasn't the No. 3 pick for nothing. He's very talented. Get Sam some help and you'll see."
On Adam Gase's dismissal as head coach: "As a friend, I felt for him, I know how much he likes coaching the game of football. You know the business, if you don't win and you don't get things going in the direction the organization wants. He's always been a good friend to me. Hopefully he'll land on his feet back in the league or coaching somewhere."
On Jim Harbaugh, a former coach with the 49ers, who might be interested in leaving Michigan for the NFL: "It won't surprise me, knowing Harbaugh. He's very competitive. Even though he didn't win in Michigan, when he was with us [in San Francisco] we got the chance to get to the Super Bowl even though we didn't win. We knocked on the door for a couple of years. I know he will come back [to the NFL]. I love him. He's a competitive, great coach. He's going to be fine."