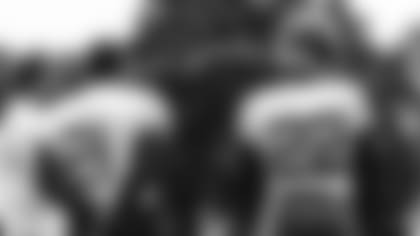 For the Jets, the expectation in the offensive backfield is that something old (Frank Gore) and something new (La'Mical Perine) can combine to help the Green & White to something long overdue -- a victory -- late Sunday afternoon against the Miami Dolphins at Hard Rock Stadium.
After the release of Le'Veon Bell on Tuesday night, Jets Coach Adam Gase is mixing young and old at running back in support of another veteran, quarterback Joe Flacco. Flacco will fill in for an injured Sam Darnold (shoulder) for the second consecutive game. As the Jets seek a route to their first win of the 2020 NFL season, Gase is keen on the partnership between the generations.
"The group of guys able to play in this game is a good mix of veterans and young players," Gase said during his news conference on Thursday. "We want these young guys playing ... the more experience they get the better."
Now Perine, a rookie out of Florida selected in the fourth round of the draft, will have a chance to show what he's got as Gore's eager understudy at practice, on the sideline and in the backfield.
"He doesn't say a whole bunch," Gase said of Perine, 22, who sustained an ankle injury late in training camp. "He's quiet. He's in Frank's hip pocket all the time. He loves the opportunity and wants to be involved in the game. Everyone wants to see it, we saw a lot of good stuff in camp before he got injured.
"Perine's definitely going to get a bigger role. Frank, you're not going to lean on him as heavy a load. Getting Perine really involved is going to be critical for us."
Gase added: "We feel like he's in a good spot. We feel we know how to use him. There's an explosiveness there."
The Jets certainly know what they've got in Gore, 37, the veteran running back who is a shoo-in to one day see his bust in the Pro Football Hall of Fame. Now they'll give Perine quality time and see what he's got. For his part, Gore, the team's leading rusher this season with 64 carries for 204 yards (3.2 yards a carry), is bullish on his young teammate.
"I think he'll get better the more he's out there," Gore said about Perine. "Each week the game gets slower and slower. He's a very tough kid who loves the game of football. I think he has to be out there, it's the only way he can get used to the speed of the game.
"When you get the opportunity you have to take advantage of it. He's got an opportunity with Le'Veon not here. He's in a good situation, he's been working hard, now you have to carry it over to the game. What I like, once he gets it, he's very physical, very strong. Once he knows what he's looking at he'll be fine."
Perine impressed the coaching staff and his teammates in training camp before he sustained that nagging ankle injury. That set him back a bit and has led to a slower integration into the offensive scheme. Perine has appeared in four of the five games, debuting against the 49ers. His modest numbers so far show 15 rushes for 56 yards (3.7 yards per carry). He was available in the game against Arizona, but did not see the field.
"We don't want to put too much on this kid, we need to figure out what he is," said offensive coordinator Dowell Loggains. "He needs to go out and play. He has the talent to play on all three downs. He has good hands, good speed, he can help passing and running game. Like all young players, he needs to maximize his opportunity this week."
For his part, Perine finds himself in a unique place -- the team just released Bell, a player Perine called "one of my favorite running backs growing up," and now he's trying to absorb all he can from Gore, a player he said is "a guy I look up to."
"It's a challenge," Perine said. "I feel like it's another opportunity, another challenge to show these folks what I can do on the field. I've got to take advantage of the opportunity and do my thing. I'm here for a reason."
Part of that reason is the speed and slashing style of running that is so critical in the success of the running game. As Gore said, it's the job of a running back to get to the line and hit the hole when it's open.
"I respect the guy so much," Perine said of Gore. "We come in every week and meet one-on-one to go over the plays, every Wednesday. He's a guy I look up to. I'm trying to find my routine, and he has a good routine. I just hope I can last as long as he has. He's a great leader on and off the field. I just try to learn from him."