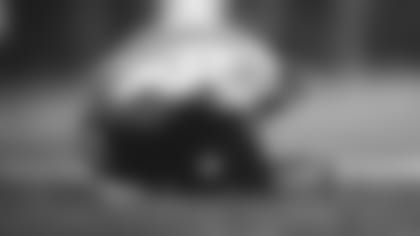 Former NY Titans QB Robert "Bob" Scrabis died on Aug. 17th. He was 87.
After playing collegiately at Penn State, Scrabis, a Pittsburgh, PA native, was offered an opportunity to try out for the New York Titans in their first year, 1960, in the American Football League.
"I would be throwing the ball around, and a friend of mine was buddies with Steve Sebo, the man who was going to be the general manager for the Titans," Scrabis told Jim Gehman in 2021. "And he was signing truck drivers and anybody that could walk, for God's sake. He mentioned to Sebo, 'Why don't you take a look at this guy, Scrabis?' So he did, and he offered me a big, whopping $7,500 for a 14-game season, and $50 an exhibition game, which there were five.
"So we went to (training) camp, and we had so many gosh, darn guys, they had to break us up. Two groups in the morning, and two groups in the afternoon. I was maybe a little bit out of shape, and there was a little hill coming down to the practice field. (Head Coach) Sammy Baugh was there, and there was a bus that would pick guys up and take them back into New York and bring another load of guys in.
"Sammy saw me coming down and said, 'Look at this tub of sh**. Let's give him a quick look and put him on the next bus going back to New York.' So I came in and I could not miss. I hit everything. He got so excited. He chewed tobacco a lot and he'd be spitting on the ground, and with a stick, he'd diagram plays in the dirt."
Scrabis recalled Howard Tuckner of the NY Times inquiring about at interview because he had thrown the first practice pass for the Titans in 1960. He later was released and returned for a spot on the taxi squad before being placed on waivers and then was claimed by the San Diego Chargers. He was released by the Chargers and went back to New York and wondered if the AFL and the Titans would survive.
"Because the money was starting to run out, what happened was, a lot of these guys would go down to the bank, and by the time their checks cleared, there was no money in the bank," Scrabis told Gehman. "So I would go down there as soon as we got our checks and get the certain amount of money that I needed, and then get a cashier's check and send it home."
A Titan from 1960-62, Scrabis appeared in 24 games and had 26 career attempts with 1 pass TD and 1 rush TD. He married his wife, Janice, and used part of his salary to buy into his father-in-law's auto dealership, Ray Auer Buick, in Lakewood, New Jersey. Taking over the business in 1969, he ran it for 43 years before retiring.
Scrabis and Janice, made their home in Avon-by-the-Sea, New Jersey. He leaves behind three children and five grandchildren: Amy and Simon Bullock (Bath, England) and Bella and Colette; Bobby and Jennifer Scrabis (Shark River Hills) and Mej; and Kristin and Mark Fletcher (Avon-by-the-Sea) and Abby and Johnny.
In lieu of flowers, donations may be made to Avon First Aid and Fire Dept or Wag On Inn Pet Rescue, Oakhurst, NJ.