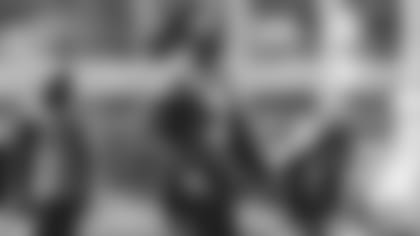 Jets safety Jordan Whitehead was part of a pretty good Tampa Bay Buccaneers defense in the 2019 NFL season.
It finished that season with the most passes defended (96) in the league. In addition, a year after finishing in the bottom-five in the league in takeaways (14), the defense finished in top five in takeaways (28), the fifth-most in the league.
But Whitehead, 26, said there was a piece, a big piece missing as HC Bruce Arians prepared for his second season in charge.
"It was kind of the same situation I fell into when I was with the Bucs," Whitehead said. "We had a great defense the year before and we just needed one piece that was missing."
That piece, of course, was quarterback Tom Brady, who took the Bucs to victory over Kansas City in Super Bowl LV. Fast-forward to 2023 and Whitehead, in his second year with the Green & White, said that he feels "the same vibe that I did with the Bucs, I joke with the guys that we're about to create a team."
With echoes of Brady leaving New England and heading south, Jets players sense the possibility of following in the Bucs' footsteps after obtaining four-time NFL MVP Aaron Rodgers from Green Bay.
"I tell the guys it's kind of like déjà vu for me," Whitehead said. "I let everyone know that we have to have the right group."
Playing on defense last season and during the Jets' recent series of OTA workouts, Whitehead sees the change and the potential. Players like WRs Garrett Wilson and newly signed Allen Lazard, plus RB Breece Hall (coming back after knee surgery) will provide Rodgers with numerous options for energizing the Jets' offense.
"On the field, he's making us better, we're getting the best we can get," Whitehead said of Rodgers during OTAs. "He's making us checkdown and communicate on another level. In the locker room you see and hear him. He's a funny character. He's a good guy, open to everything. A real great guy."
Whitehead is among a small group of former Pitt Panther players on the Jets, a contingent that includes draftees OL Carter Warren and RB Israel Abanikanda. Whitehead was drafted by the Bucs in the fourth round (No. 117 overall) of the 2019 NFL Draft. He spent his first four professional seasons with the Bucs before signing a two-year, free-agent contract with the Jets in March 2022. In his four seasons with TB, Whitehead started in 55 of 59 games, 5 INTs, 5 QB hits and 25 passes defensed. He also logged 292 total tackles (222).
In his first season with Jets, Whitehead started all 17 games, made 89 total tackles, 8 PD and 2 INT, tied for second on the team with Sauce Gardner and Michael Carter II.
"It was a great season, a great learning experience being in a new system and playing with new guys," he said. "D.J. [Reed], Sauce, Michael Carter. It was a great time with the cornerbacks, who made my job easier. I'm really, really ... I'm ready for the guys, Sauce is not a rookie anymore. It's a more veteran group."
Defensive coordinator Jeff Ulbrich and his players on defense have lamented the lack of INTs last season (12 total), even as the Jets' defense excelled and moved from the bottom of the league to a top-5 unit.
"We all talk about it, especially since we had a lot of PBUs [passes broken up]," Whitehead said. "But we need those INTs and pick-sixes that change games. We got a great pass rush that got some sack fumbles and that made the job easier for us. Now we need to capitalize on those quarterback mistakes.
"I had a couple of chances, but I don't like to talk about missed opportunities. It's not OK to say 'my bad.' I've been working to hold myself accountable. We want to win. There's a lot of competition in the room."
See the top images of the Jets during the 2023 offseason program.