Over time, football has become an integral part of the Thanksgiving holiday. Whether you're a diehard fan glued to the television and eating turkey legs on the couch or a casual participant listening to the ambient noise of the broadcast in the background, Thursday afternoon football is a special event.
For third-year Flight Crew veteran Nicole, you simply cannot have one without the other.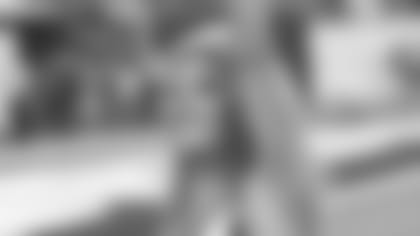 "The only way to digest your Thanksgiving meal is by finding a spot on the couch to watch the game," said this week's Flight Crew Gameday Girl heading toward Sunday's home game against the Bills. "Watching a good matchup on Thanksgiving is similar to having gravy on your mashed potatoes."
Nicole's love for football was cultivated at a young age. She is a football fan first, dancer second, but the opportunity to blend both into one activity is something she relishes.
"Very few people can say their dreams become reality, and there isn't a day that passes that I don't feel more than fortunate," she said. "I'm addicted to the thrill of football, and what better team to cheer for than the New York Jets?"
The game has played an important role in her family for as long as she can remember. Football was a bonding agent, and she can recount a particular occurrence that foreshadowed her current career as a Jets cheerleader.
"I can remember being 7 years old, dancing in my living room with my sister to the Monday Night Football theme song as my dad got settled on the couch for the game," she said. "I have gone from dancing in the living room in my pajamas to dancing for 80,000 people during a live game."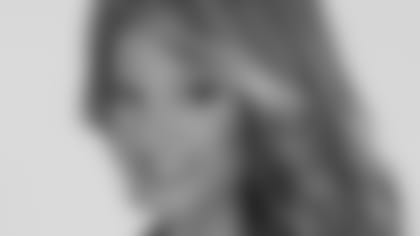 A true Jets fan, Nicole is honored to be a part of the Green & White family. She embraces the high standards that surround the team and applies the same expectations to her own role.
"Why would any organization not be setting their standards so high? We've hit a couple bumps in the road, but I have faith that, as before, we will get the job done," she said. "If we fill that stadium with positive energy and stand behind our team, we'll continue to find ourselves pushing through in the middle of the wild card race."
Of all the memories Nicole has made during her three-year tenure with the Flight Crew, her favorite moment came in December 2009, when she had the opportunity to ring the opening bell at the New York Stock Exchange.
"To be honored on such a respected pedestal as a professional cheerleader is something I will always cherish," she said. "That day made a mark in Flight Crew history and I am so proud to have been a part of it."
At this time of giving thanks, Nicole and her Flight Crew teammates recognize how privileged they are. Still, the thanks they give are not confined to one day or one holiday season.
"All of the girls on our team are genuine, humble women and we recognize just how blessed we truly are," she said. "Being part of this team gives us plenty to be thankful for all year round."