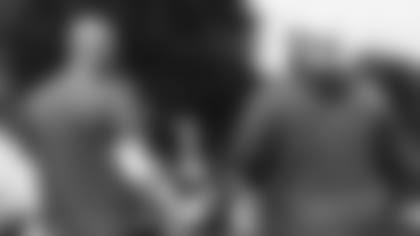 When Jets general manager Joe Douglas and head coach Robert Saleh talk about "character guys," they're not referring to entertainers or jokesters. No, "character" on the football field and in the locker room is about more, much more. Got to love "ball," lead by example and be able to sprinkle some nasty all over the field.
"We try to make it an exact science, but we are really trying to dive into what motivates this young man to play the game," Douglas said before the start of the 2022 NFL Draft (8 p.m. Thursday in Las Vegas). "Does he truly love the game? Does he love to compete? Does he want to go out there in tough times and still give his best? That's really what we're trying to dig on any player that comes here, and it takes a lot of work. Your scouts have to talk to as many sources as they possibly can, and you have to have one-on-one visits. The bottom line is we are looking for guys that love to compete, love the game, and that hate to lose"
This year, the first stage of character infusion came early in the free-agency period when the Jets signed OL Laken Tomlinson; TEs C.J. Uzomah and Tyler Conklin; CB D.J. Reed; DEs Jacob Martin and Solomon Thomas; and S Jordan Whitehead. The Green & White also held on to a handful of its own quality individuals in QB Joe Flacco; RB Tevin Coleman; WR/KR Braxton Berrios; DL Nathan Shepherd; and OL Dan Feeney, Conor McDermott.
"I feel like we really attacked the character side of the game in our locker room, when you look at D.J. Reed and Whitehead and C.J. and Conklin and Laken," Saleh said. "They bring an edge, they're bringing professionalism, they're bringing a winning pedigree to the locker room. They've all been in championship games, they've all been with winning organizations, so it's really exciting to get those guys here."
Douglas is in deep preparation for his third draft with the Jets. Unlike the previous two years and the numerous adjustments that were necessary because of the coronavirus pandemic, teams this year were permitted to host up to 30 draft-eligible players at their training centers.
"Yeah, we look at the core traits for any player going back to really how much they love the game," Douglas said. "But ideally, you're looking for both the production and the ceiling. A lot of times you are projecting on players and a lot of players do not run the exact scheme as us, so we are projecting their fit within our scheme. That's why these discussions last week with our coaching staff and our scouts were so important, to get each team's perspective on how this player specifically fits into our organization."
When it comes to handicapping the draft -- whether it's following the mantra "best available player" or trading up or trading down -- Douglas said it all depends.
His best advice? Watch the clock.
"I think you never know," Douglas said. "I feel like when we've made trades in the draft in the last two drafts [in 2020, sending No. 48 to Seattle for No. 59 and No. 101; and in 2021 trading No. 23 to Minnesota for No. 14 to take OG Alijah Vera-Tucker], a few of them haven't been discussions that have happened prior to the draft. A few trades have been made while we're on the clock.
"So, you won't really know until we're on the clock in a lot of cases."