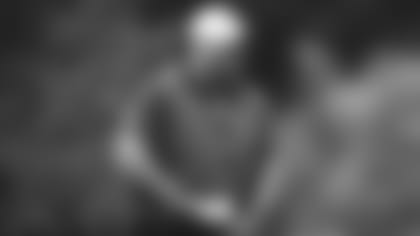 Brant Boyer is an outdoorsman, devoted to hunting and fishing in his native Utah and other points West.
After the conclusion of the 2020 NFL season, the Jets' special teams coordinator did what he's done his previous five years with the team -- he broke out the fishing gear and made travel plans.
"I got five days off after the season," Boyer said on the final day of the Jets' voluntary OTAs. "I flew into Nevada to do some fishing and met some buddies down there. Then as soon as [Robert] Saleh got hired I thought I'd better get back here so he can put a face to the name."
Boyer, now working with his third head coach during his tenure with the Green & White, is the lone incumbent among Head Coach Robert Saleh's new, dynamic staff.
"I'm pretty damn lucky," Boyer said about his ongoing tenure. "We weathered the storm. We're good. I'm good."
He added: "I think it's different with any coach. I really enjoyed the beginnings here and the new staff. It's certainly a change with the personnel, but that's part of being a coach and learning different personalities as far as the players and molding them into what you want. Trying to teach them to do the things that you're asking them to do and the coaching staff has been awesome. Saleh is full of energy, he's smart as heck and he's really detailed. I've been really, really enjoying all these guys so far."
Any new NFL season, and certainly the Jets' new coaching staff and new schemes, brings much roster turnover. What Boyer, and his special-team coaching compatriots face year in, year out, is guaranteed turnover in coverage, and among returners and kickers. It's a daunting task having to cobble together units that can play pivotal roles in the outcome of games.
"I think a lot is in terms of the roster, right?" Boyer said. "Because [Frankie] Luvu and all those guys are gone. [Matthias] Farley, my whole group, [Tarell] Basham and all those guys are gone now. So, schematically it doesn't change much for me. I may tweak some things and stuff like that, but I have smaller, faster, longer linebackers than possibly before. So, it's going to be a little different. I think some things are a big plus right now and some things we've got a lot to work on because of that change. I think eventually, once we start getting going and we start accelerating the process and they get the more reps, and they can't get enough reps, the young kids that are in here now and the guys that haven't been here. And, they're doing a really nice job so far. I think that they're slowly coming along and that's what they should do, if they can just get a little better every day, which is what we're trying to do. I think we'll be fine when the time comes to put the pads on for real."
The place-kicking competition is shaping up, for now, as a battle between veteran Sam Ficken and the undrafted free agent Chris Naggar (SMU). Braden Mann, entering his second season, will retain his spot as the Jets' punter. Beyond that, well, it's a work in progress.
The Jets signed free-agent cornerback Justin Hardee from New Orleans, a special-teams ace who was ranked sixth among all special-teams players with a Pro Football Focus grade of 90.4.
"I was ecstatic on that one," Boyer said about the signing of Hardee. "We played, I think, 13 different gunners last year. So, it was a real struggle. He's been fantastic and what he's done is he's taken over a leadership role in the room and that's what, I think the biggest thing we needed in our room, especially losing a bunch of our core guys with the new roster. He's done a great job, I expect big things out of him.'
Boyer said that he has been impressed by the commitment of two rookies: WR Elijah Moore and RB Michael Carter. Both have checked in to the Atlantic Health Jets Training Center at 6:30 a.m. "to get extra work when no one asked them to," the coach said.
Moore, who flashed impressive skill catching passes from fellow rookie Zach Wilson during OTAs, has quickly emerged as a triple, even quadruple threat -- with the prospect of also returning punts.
"He's got a heck of a skillset," Boyer said. "I think his biggest improvement, he's going to have to learn how to track the balls a little better. He has fantastic hands, he's got everything that you're looking for with quickness and the dynamic short-area burst and everything like that. His tracking just needs a little cleanup."