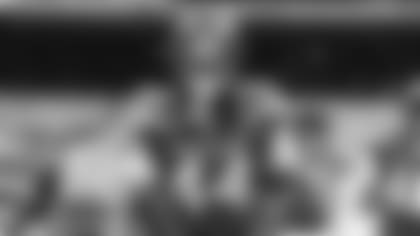 The news on Tuesday that Jets LB Harvey Langi was placed on injured reserve, ending his 2020 season because of a neck injury, would qualify as a serious setback for any player not named Harvey Langi.
For Langi and his wife Cassidy, however, a setback on the football field pales in comparison to a horrific car crash that nearly took their lives several years ago in Foxborough, Mass. In this Thanksgiving/Christmas/Holiday Season, the deeply religious couple has much to be grateful for, each and every day.
On the night of Oct. 13, 2017, the couple was stopped at a red light on their way home from a dinner date with another couple when an SUV driven by a drunk driver (who was later charged with felony possession of a Class E substance and assorted prescription drugs, negligent operation of a motor vehicle, possession of an open container or alcohol, and a marked lane violation) slammed into their Mazda3. The force of the crash, estimated at more than 50 miles per hour, pushed Langi's car into the vehicle in front, crumpling Langi's car like an accordion. In the crash, Langi sustained injuries to his head, neck, and back while his wife broke both hips, multiple ribs and required stitches in her scalp. Three people in the car in front were injured. The two people in the Jeep Grand Cherokee were not injured.
Langi, whose final stat line for the 2020 NFL season reads 60 tackles (37 solo), a pass breakup and a fumble recovery over 14 games, spoke to The Official Jets Podcast this week.
"Let's start with the backstory," Langi said. "I went undrafted but made the 53-man roster at the Patriots, playing special teams, in and out active, active, more inactive. I think I was active one or two games, probably one [it was one game]. I was a backup, they had some pretty good linebackers. One week, the defensive coordinator came up to me and said 'you better be prepared, you need be prepared for some defensive reps due to injury.' I was being as serious as possible, watching film going through the playbook. At least once a week, I was getting advice from other players to set aside time for a date with my wife. So every Tuesday we would always go out on a date, but we canceled that week because I wanted to be focused."
On that Friday, they received a call from friends suggesting a night out for dinner.
"She [Cassidy] answered the phone. I said next week. I could see it in her face, ugh. She stayed home every day to support me, it was my first year in the NFL. She was the breadwinner for my last two years of college [at BYU]. When I got to the NFL I asked her to come on this journey, let's do it together, let's ride it out. She came out with no job. She was bored all day, all she wanted was to put on jeans and not wear sweats all day. I'm sitting there and feeling that I guess we can go to dinner to a steakhouse within a mile. I said let's go. She was so happy.
"On the way back home we get on the highway [one with stop lights]. Stop at a light, we're almost home and I'm trying to find a song on my phone. She says to me that by the time you find one we'll be home. I hit the song, I was singing out loud, then BOOM. I didn't know what happened. I woke up to see all these red and blue lights flashing, glass everywhere. My knees were crunched up to my chest. I couldn't move. What just happened? A bunch of first responders and cops were using the Jaws of Life to get me out. I looked over at her, there was blood everywhere. But I couldn't help her. The car was smushed.
"A Jeep smashed into the back of my car and we went into the car in front, an accordion. I couldn't help her. She was unconscious, bleeding. It was the craziest and hardest thing I had to go through. I couldn't do anything, I was stuck and my legs were pinched. I calmed down and they took out Cass and it just hit me, the only way this could have happened if I fell asleep. I'm freaking out. They marked Cass as deceased, and I'm freaking out because maybe I just killed my wife. It was terrifying and heartbreaking. They took us to two different hospitals. It was probably the darkest moment of my life. I'm calling everyone to try and find out how she is -- her parents, other church members.
"I finally got a call a few hours later from her parents, and once I knew she was alive I didn't care about anything else. I had an opportunity for playing time, my career was on the line, but none of that was what I was thinking about. And that game that I was supposed to be getting ready for, another practice squad guy, Trevor Reilly, goes out there and starts, he did his thing. That could have been me, starting for the Patriots that year. The important thing is that we both survived and are alive."
Like so many people who have experienced a brush with death, Langi said that he and Cassidy gained a new perspective on life and what matters most.
"We found out what matters in this world," Langi said. "It's not the NFL, not the money, not the cars, not the clothes, the clout, the followers, the 'likes.' The biggest things that matter are family relationships that you build. This is what brought us back to square one. Being a religious man and family guy I do truly believe something needed to reset and remind me what is more important and to stay focused on what is important in life. If you keep those things true all else will fall into place. We're alive, I'm going to play football, it's all OK. We're going to recover. I knew that somewhere I'm going to be on a football field, as a coach, strength and conditioning guy, a player. I'm going to get back on the field.
"I'm super blessed. It's another lesson not to take things for granted. Tell those you love that you love them. Tell them daily.
"The biggest thing I can compare it to was when my wife was walking down the aisle, that first sighting in her wedding dress. I walked in [to her hospital room] and she was there with 17 staples in her head. She looked just like she did that day. It brought a huge smile to my face. I had thought I'd lost her. Even though I couldn't control that I try my best to make sure nothing hurts her again."
"There is always light," Langi said. "You keep on going in tough times because they don't last, but tough people do."
Merry Christmas and Happy New Year.