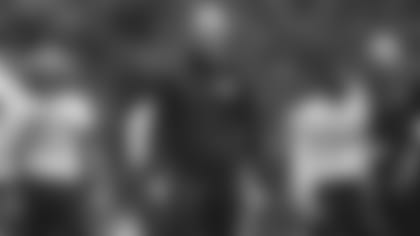 This is one in a series of articles that will also appear in the New York Jets 2023 Yearbook, which will be published later this summer.
On the morning after the Jets' 11-6 loss to the Dolphins to close the 2022 regular season, head coach Robert Saleh sent a message to his players without saying a word. In each locker, the equipment staff had hung a black T-shirt with the word "FINISH" in white across the front.
"Finishing doesn't mean let's wait until December," Saleh said. "It means starting today, everything we do is about finishing — finishing our workout, finishing whatever it is that we're doing. Let's make sure we have the mindset to finish because come December, we're going to finish and hopefully that gets us in."
One of the NFL's early-season surprises last year, the Jets ended November with a 7-4 record. But the Green & White dropped their final six games, with four of those losses determined by one possession, and finished out of the postseason.
"It's a tremendous learning experience," the coach said, "one that stings because we didn't get it done."
The late-April trade acquisition of QB Aaron Rodgers, a four-time NFL MVP, will position Saleh and the Jets to take another leap after nearly doubling their win total from the previous season.
"In the NFL, it's about the fourth quarter, finishing drives," Saleh said. "We had opportunities last year, but it didn't work out for whatever reason. A guy like Aaron, he has a history of being able to finish drives in critical moments."
The two developed a healthy respect for each other when Rodgers was Slingin' the rock in Green Bay and Saleh was calling the defensive signals in San Francisco. In Saleh's first Jets training camp, he brought his green team to Wisconsin for a week of practices before a summer game at Lambeau Field. Last October, Rodgers saw how far the Jets had come when the Green & White dominated the Pack, 27-10, at Lambeau.
"They smoked us last year, so I knew they had a good team," Rodgers said. "We got to practice against them a couple years ago and I got to know Robert a little bit more, and I've always loved what he's all about. We played him in San Fran a few times and, mostly, they got the best of us. But I liked the way he was leading, his coaching style."
A servant leader, Saleh has stayed true to his vision since his start. The narrative around the Jets is changing, but the job is not complete.
"There's a lot of really good people in that facility," he said. "To change the narrative, to change the view of the organization, that's always the vision. The only way you can do it is with winning. I feel like we're going on the right track. I know it didn't finish the way we wanted to a year ago, but I think there's a lot of excitement about what we can be."