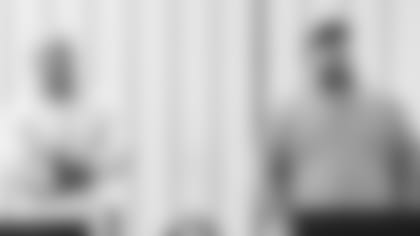 Jets GM Joe Douglas and HC Robert Saleh are preparing for their third season together, a 2023 NFL season full of promise and expectation.
Working together they haven't so much as flipped the script than rewritten the entire film as the Green & White has built a vibrant, young roster, which is sprinkled with wily veterans. And they're not done yet. To come at the end of April is the NFL Draft. Free agency is still alive and well. And of course there's the elephant in the room in the possible trade for all-world quarterback Aaron Rodgers.
If, as Saleh said, a team's quarterback "is the head of the snake," then Douglas and Saleh are the two-headed dragon seeking to take the Jets back to the postseason for the first time in more than a decade.
"I love Joe D. because one of the hardest things to do in this league is to operate in humility and because, you know, this profession, especially when there's success, there's this disease of the me factor that jumps in," Saleh said. "You can go off the deep end with a mindset of wanting credit and all that stuff.
"And Joe just does a great job of orchestrating the way we all communicate, and you look at his staff ... all the guys that he has on his staff, we're all in unison. We disagree a lot, don't get me wrong. It's not like we agree on everything, but I think those open and honest discussions are where we can disagree without getting pissed at one another. I think it's healthy and I think it's why we've been able to have so much success over the last two years with bringing in the right guys."
The acquisitions last year -- from elite rookies like WR Garrett Wilson, CB Sauce Gardner and RB Breece Hall (among others from a blockbuster draft); to key free agents over their term, like DE Carl Lawson, CB D.J. Reed, et. al. -- has significantly altered the conversation around the Jets and the organization's appeal across the NFL.
During the course of the current offseason, 1 Jets Drive has emerged as a preferred destination for a slew of free agents, including WRs Allen Lazard and Mecole Hardman, Jr., who have signed on. Then there are the guys who have publicly expressed a desire to wear green and white, a list that includes Rodgers and veteran WR Odell Beckham, Jr. -- among others.
"Yeah, the idea is to, at my opening press conference [in January 2021], the plan was to win multiple championships, to scrub the dirt off the organization," Saleh said "There's a lot of really good people in that facility. To change the narrative, to change the view of the organization, that's always the vision. The only way you can do it is with winning. I feel like we're going on the right track. I know it didn't finish the way we wanted to a year ago, but I think there's a lot of excitement on what we can be. We just got to continue attacking this offseason."
It's no secret that the Jets roared out of the gate at the start of last season, racing to a 7-4 record. But the season ended with a six-game losing streak. There were ups (a defense that evolved from one of the worst in the league to one of the best) and downs (a raft of injuries on the offensive line).
"We're not exactly where we want to be," Douglas said. "I think the end of the season put a bad taste in everybody's mouth, and it's going to lead to a lot of motivation. With the staff he's [Saleh] put in place, with his energy, his leadership, I feel like the organization is in a good place. And I feel like there's going to be a lot of hungry players coming back and ready to prove that how we finished is not going to be how we start next year."
From where he sits now, Saleh is bullish on the coming season.
"We're excited about the group that we have," he said. "Last year, our defense, for the most part, we're bringing them all back. We still need to take care of our defensive tackle position, but offensively, we love Garrett Wilson, love Corey Davis, love the two additions that we made with Lazard and Mecole and there's a bunch of young guys. Hopefully [Denzel] Mims takes another step forward. Irv [Irvin Charles] takes a step forward, so there's some young guys back there that we're excited to see grow from the receiver standpoint.
"Running-back wise, I'm expecting great things from Michael Carter. I know he had a down year a year ago, but I think he's got a chance to come back strong. That usually happens where year three is a trigger for those young guys. Obviously, Bam [Zonovan Knight] finished the season strong, get Ty Johnson back and then Breece looks fantastic, so we just have a really good mixture of young guys right now that we're excited to grow and continue to work with. We'll fill the needs where necessary."