The NFL is very good at choreographing attractive games and storylines for national consumption. But the league couldn't have anticipated sending Ryan Fitzpatrick back to Buffalo for the final regular-season game saying in his best Jack Nicholson Joker voice, "Wait'll they get a load of me."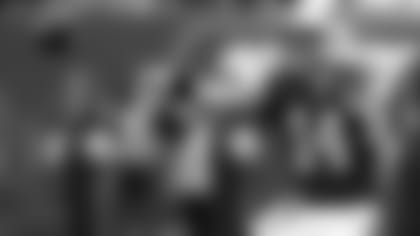 Well, Fitz wouldn't say that, but he could. He spent most of four seasons as the Bills starting QB, never finishing with a winning record, never averaging less than an interception a game.
And Sunday he and the Jets on their team buses will pull into Ralph Wilson Stadium in Orchard Park, NY, with 10 wins and a chance to secure a playoff berth, and with Fitz a solid 273-yard passing game from joining Joe Namath as the only 4,000-yard passers in Jets history.
Additionally, Fitzpatrick will enter as the AFC Offensive Player of the Week, an honor he received from the NFL today for the second time in three weeks and didn't receive once as a member of the Bills (although he was named AFC Offensive Player of the Month in September 2011).
"It'll be the first time that I've been back there in a different jersey, playing in front of those fans," Fitzpatrick said Monday. "It's got some extra meaning to me, just because I was there for four years and the fans were so great to me and my family. But I don't think there needs to be with just the significance and importance of this game in terms of what's at stake for us."
Clearly, coming to the Jets via trade with the Texans this offseason and reuniting with coordinator Chan Gailey, his head coach for three of those Buffalo seasons, has been good for him. He said "the most fun" he had in those Bills seasons was 2011, which started with a 5-2 record, only to finished 6-10 but with Fitz showing a big NFL arm with 3,832 yards and 24 touchdown passes.
"We just have a great feel for each other. He knows me so well," Fitzpatrick said. "I think our philosophies line up just in terms of the way to attack a defense. I think he plays to my strengths as a player and oftentimes now I can kind of anticipate what's coming in or what's going to be called. He'll ask my opinion and see if I like a play or don't like a play."
Add in the Gailey offensive simplifications after the Texans loss and the melding of the Fitz/Brandon Marshall/Eric Decker/Chris Ivory skillsets and voilà — we have one of the hottest offenses in Jets history:
■ With 428 yards vs. New England, the Fitzpatrick offense has averaged 422.6 yards over the winning streak. It's the most yardage for the Jets in a five-game span since 1985 and the fifth-best stretch in franchise history.
■ The pass offense's No. 11 ranking is the best since the 2000 team finished sixth, and the overall offense's No. 8 ranking puts it in the NFL's top 10 for the first time in December since 1998.
■ Fitz's next touchdown pass, if it comes Sunday, will give him the franchise individual TD-pass mark he now shares at 29 with Vinny Testaverde in 1998. And three TD passes would break the team mark of 33 also set in '98.
"I just think we've been coming together as an offense and really as a whole team. And not just confidence for me personally but I think as a team, our confidence level is higher," he said. "The guys around me have been playing great. Brandon and Deck, even Kenbrell [Thompkins] and Quincy [Enunwa], our three running backs, the guys really have just been stepping up."
Now with all this being said, will this Buffalo business trip be "peaches and roses" to borrow a Fitz turn of phrase? Heck, no. Four hundred yards of offense and 273 passing yards? The Jets got 318 and 193 in the Thursday night loss to the Bills at home in November. Eleven wins and a playoff berth? The Jets have only nailed down 11 wins four other times and playoff berths 15 other times in their previous 55 years.
And we won't even mention the Rex Ryan factor here.
At least Fitzpatrick knows the Jets won't be focused on any goals or foes as they go for the W.
"I mean, that's really what it's been the last five weeks," he said. "When we were sitting there at 5-5, we knew we had no margin for error and so that's what it's been the last five weeks and we just have to continue to take that mindset and that mentality and roll it into this week.
"Hopefully we'll get a great game plan and a great practice week and we'll go out there and show up on Sunday."