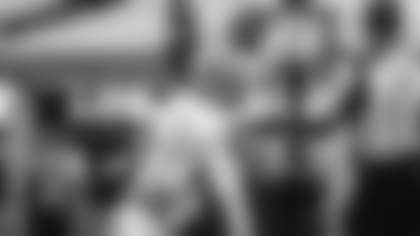 Chris Herndon's first Thanksgiving Day as an NFL player was memorable ... for all the wrong reasons.
"Rookie year I forgot to coordinate whose house I was going to go to," Herndon said. "I also forgot that the stores close early. So my rookie year my meal was some cereal. I went to CVS. I was desperate. I got some chips and dip, tried to make it festive. The main course was cereal of some type of Cheerios.
"I sent a picture to my family and they all laughed at me. They said 'we told you, you always wait until the last minute to plan stuff.' "
Nothing was open. Pizza? Chinese food?
"They were closed, too," he said. "But I'm good this year."
Eat. Drink. Watch football. Catch footballs.
Up until last Sunday in California, it had been a difficult season for the Jets' third-year tight end out of the University Miami. After a strong training camp, Herndon's challenges matched those of the team's offense -- little seemed to go right.
"There was a lot of self-inflicted stuff -- drops, fumbles," Herndon told Bart Scott and Dan Graca on the Inside the Jets podcast. "[Sunday] it really felt good to see myself have success again, and get encouragement from my teammates."
Against the Chargers, Herndon dropped the first pass sent his way by QB Joe Flacco. The initial reaction was: Here we go again.
"We're really hopeful he can build on that game," Head Coach Adam Gase said on Monday. "I hated to see him drop that first throw to him. Going back and watching the film, he didn't turn his head. He was trying to look it in, and I thought he had some room to run. To see him make the one crossing catch with the linebacker in his face was big play in the game [a 26-yard gain]. To see him have success knowing how hard he's been working, to see him doing everything right, to see him have success is a big positive for us."
It's hard to overestimate how important Herndon's two catches (one for a TD) were to him and to the Jets. Two catches for 32 yards will hardly mask the bad taste from nine games, but it was something to build on.
"For me, it just comes down to watching film, seeing opponents, who my matchup will be for that game, seeing what the coaches think," he said. "The way I practice and train for the week is huge. It's not just on game day where the magic happens. I'm a big believer in how you practice is how you play."
As a rookie in 2018, Herndon played in all 16 games and grabbed 39 passes for 502 yards, with 1 dropped pass. He was limited to one game in 2019 and was expected to come back strong this year. So far, he's been targeted 27 times and has 16 receptions, fourth on the team, for 133 yards.
"I definitely had to continue to work on that [confidence] as well," he said. "It's just natural as an athlete to feel like you're putting in the work and not getting results. You start formulating lots of thoughts in your head. But I continued to work on finding ways to go harder, stay in the weight room, make sure my body is in shape, continue to study, eat the right things so I'm ready come game day. I continue to work hard and stay confident in myself."
As the Jets keep searching for that elusive first win of the season, Herndon remains bullish in this most difficult and challenging of seasons.
"I feel like in times like this it's when your true colors come out," he said. "In this situation where people doubt us and don't really give us much of a chance we could give in to that and listen to that. But as football players and as men I see everyone coming out to practice and games with energy and focus, blocking out what everyone else is saying. We're out there and we will give our all to the end of season."