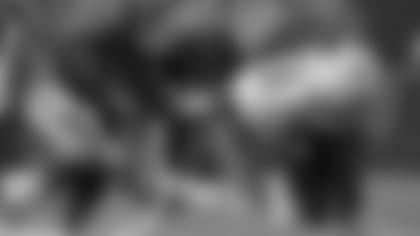 It was again a struggle for Jets rookie QB Sam Darnold and his offense in Sunday's 24-10 loss at Chicago. But at times like these, it pays to examine the smaller developments because at some point they can erupt into large developments for an improving unit.
Such an event may have been Darnold's only completion of the day to a fellow rookie, tight end Chris Herndon.
Actually, it was a fairly big event because the 16-yard scoring strike with 11:14 to play enabled the Green & White to make it a one-score game at 17-10.
"First of all, great route, great protection," Darnold said. "We got exactly what we wanted. I saw it right away and I knew it was going to be a big play."
"It was something we did in practice all week," Herndon said. "We got a good look and took a shot and executed."
The completion was also historically significant. Herndon, you'll recall, had his first pro touchdown catch against the Broncos. The next week he had No. 2 (and almost No. 3) against the Colts.
That makes a TD catch in three consecutive games. Herndon is the first Jets TE to do that since Austin Seferian-Jenkins last season, who had scoring grabs in Games 5-7, at Cleveland, vs. New England and at Miami. Before that, Dustin Keller turned the trick twice, in the 2009 playoffs and again in the 2010 regular season.
As for the last Jets rookie tight end to achieve that trifecta, you won't find one. It's never happened before in franchise history. Keller didn't do it as a rookie in '08, nor did Anthony Becht, Kyle Brady, Johnny Mitchell, Mickey Shuler, Jerome Barkum, Rich Caster nor Pete Lammons. Good tight ends, all. Some of them even good WRs at times. None of them went 3-for-3 as rookies as Herndon just did.
That achievement takes none of the sting out of the offense's issues in Chicago. But the Jets will put this development in their duffel bags and try to duplicate it, improve on it, or do some new and productive things off of it as soon as next Sunday at Miami.
"Me and Chris, we've developed a great chemistry," Darnold said. "We've just got to keep going and continue to develop that chemistry with the other guys as well."
"We had a bunch of self-inflicted wounds," Herndon said. "We're going to keep working. We're not going to give up on one another or this team, and we'll get back to work tomorrow."
"Herndon, he's a guy that's playing good right now," guard James Carpenter observed from his spot in the trenches. "We've just got to do it as a whole. We're going to get there. We're going to get better."