For the next three days, more than a hundred of the nation's top college prospects will practice in front of NFL personnel at Ladd-Peebles Stadium in Mobile, AL. Senior Bowl Week, which involves crash courses in finances, media and community service, is all about preparation for the next level.
"It's really the most unique football experience in the country because you're really merging. It's where the two worlds of football collide — college and pro," said Phil Savage, the Senior Bowl's executive director. "And we want to be seen as the ultimate bridge from college to the NFL."
Nearly every player who will take the field this week will play professionally somewhere in 2017.
"Last year, I think we had 116 players that ultimately put on a uniform and participated in at least one or two practices," Savage said. "Maybe they came in late and played in the game, but I want to say 107 of those players drew a pay check last year."
One prospect who declined an invite was Clemson star QB Deshaun Watson.  After leading the Tigers to a National Championship win with a 420-yard, 3 TD effort against Alabama, Watson most likely will be a first-round pick. Last year, North Dakota State's Carson Wentz gathered a ton of buzz and he was ultimately selected No. 2 overall by the Philadelphia Eagles in the 2016 NFL Draft. Mississippi State QB Dak Prescott had a rather nondescript week, but he picked up steam with his performance in the actual game.  Named the Senior Bowl's Most Outstanding Player, Prescott eventually was taken in the fourth round by the Dallas Cowboys and had a sensational rookie season.
Most pundits think Watson, Notre Dame's DeShone Kizer and North Carolina's Mitch Trubisky are the top three QBs in the 2017 draft class. While Kizer and Trubisky are early entries and not in Mobile, Savage believes Pittsburgh QB Nate Peterman has an opportunity to improve his draft stock.
"I think Nate Peterman… has a golden opportunity to really showcase what he can do. He's got timing in his feet and his arm," Savage said. "He has a good head on his shoulders in terms of his anticipation and timing and he was one of the senior quarterbacks out there that probably had the most buzz even though it was sort of the under the radar because Pitt was very productive on offense this year.
"I think Nate is probably in the best position going into the week," he added. "I think Davis Webb, the quarterback from Cal, has a chance to establish himself in the mix of this draft of quarterbacks that probably have more questions than answers."
Peterman, a transfer from Tennessee, threw 27 TDs last season and had only 6 INTs. In two seasons at Pittsburgh, the 6'2", 225-pounder threw for 5,142 yards and 47 TDs.
"I think it's an opportunity of a lifetime to be around the coaches and get on the field with them and play real football," Peterman said. "I think it's the only opportunity like it in this process. I've talked to a lot of teams already and it's pretty fun. I'm just really thankful for the opportunity."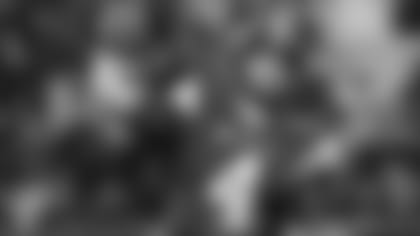 In addition to Peterman and Webb, Tennessee's Josh Dobbs, Colorado's Sefo Liufau, Iowa's C.J. Beathard and Tiffin's Antonio Pipkin will all get their chances to operate while working with the Browns and the Bears coaching staffs.
"Last year, we invited eight quarterbacks. Ultimately 15 were chosen in the draft. It was a very deep class," Savage said. "This year I think there probably is more debate about who really is the best quarterback and how they shake out. My hope is between Nate and Davis Webb and the other four quarterbacks who are here  — we went back to the traditional model of six  — that they'll all be able to showcase what they can do."
Pipkin, who became the third player in Division II history to throw for 10,000 yards and rush for 2,000 yards, will get the chance to show he belongs against prospects from more well-known Division I schools.
"The thing that really grabbed me is he is really good with his eyes and his shoulders. He does some subtle things at the quarterback position, just nuanced things that you typically don't see from a college player," Savage said. "You can tell he's been well-schooled, I know he's been training for the last six, seven weeks getting ready for this and I'm excited to see him and see how he does."
Best Images of Members of the Jets Roster Participating in the Senior Bowl. Practices for 2017 Senior Bowl Begin Tuesday, January 24th.