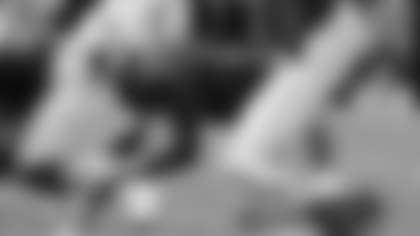 Will McDonald IV, the Jets' first-round selection in the 2023 NFL Draft, has a lot going for him. There's his athleticism, his devotion to his college and his love for his family. Here are five things to know about the Green & White's new edge-rushing defensive lineman.
No Pro Ceiling
McDonald was asked Thursday night how good he can be as an NFL player. He went right for the top.
"I'm just going to try to get into the Hall of Fame," he said. "I don't think I have a ceiling. I just want to keep rising, keep improving one percent every day and do what I can do."
What kind of player will Jets fans see in his rookie season? He has a little bit of that "violence" that HC Robert Saleh likes to see in his team.
"I love hitting people," he said. "It goes exactly with my game. So I'm just real excited right now. I can't wait to get there and start practicing."
Ending a Half-Century Drought
"I don't really care about being first round, second, third," McDonald said at ISU's pro day last month. "It's all about the production and how you do against the guy lining up across from you."
The Jets were the first NFL team to ignore McDonald's lack of concern over his draft position, taking him 15th overall in the NFL Draft on Thursday night.
As a result, the Jets and McDonald ended a 50-year Iowa State drought. Will is the first Cyclone to be taken in Round 1 of the draft since QB George Amundson was drafted by Houston — the Oilers, not the Texans — in 1973. Amundson played two seasons for the Oilers and one for the Eagles as a RB.
Quite the Athlete
McDonald came to football late in his high school career. "I was a real big basketball player at first," he explained of the sport he turned to when he transferred to Waukesha North as a Wisconin high school sophomore. "At first, my football head coach, Coach Harris, kept coming to me after basketball practice and asking me to try out. My junior year, I took it serious and just went with it."
He also lettered in track and baseball, and excelled especially in the "field" portion of track and field, winning a state title in the discus and finishing third in the high jump. He showed more of that athleticism at this year's NFL Combine, unfurling an 11-0 broad jump that was tied for best at the Combine among all D-linemen.
Family Ties
The McDonald family is tight, in part from battling medical issues. His mother, Chandra Williams, was diagnosed with breast cancer in 2008 but was considered cancer-free by 2012. However, Will's brother died in 2021.
"I want him to see me do great," said Will, who wears a chain with his brother's picture on it, butterfly tattoos in his memory on his neck and a special earring, all to remind him who he's playing for. "It just means a lot to come back and do things that I do so my family can see me do it."
That Old College Try
McDonald played in parts of five seasons, including one redshirt year, at Iowa State, so he could have left Ames for the NFL last season. But there was a very good reason he stayed at school: He was a few credits shy of becoming the first in his family to graduate from college. So he returned for the '22 season and also got his degree, fulfilling a promise to his mother.