Fitzpatrick TD to Brandon Marshall Jets Trailing 13-0, 2nd Quarter 2nd and 8 from the BUF 17
The Bills show pressure at the line and Brandon Marshall immediately makes a hand gesture to his quarterback. Marshall sees all that he has between himself and TD No. 14 is Mario Butler. Ryan Fitzpatrick, who has Stevan Ridley in the backfield with him, has 3 WR to his left and Marshall just inside the numbers to his right. Fitz shouts out protections pre-snap and appears to tell Ridley that his man is Bills LB Preston Brown. The Bills have 7 at the line as S Bacarri Rambo lines up outside DE Mario Williams. Ridley moves over and meets Brown while Fitzpatrick handles Rambo with the decisive throw. Butler attempts to play off Marshall, but the All-Pro wideout literally turned the overmatched DB around.
Harrison FF/Revis FR Jets Trailing 16-7, 3rd Quarter 2nd and 4  from BUF 26In their base 3-4 look, the Jets face a big Bills package as the home team lines up 7 at the line.  Damon Harrison, lined up directly over C Eric Wood, demonstrates his explosion in vicious fashion. He discards with a rip move and then sticks out his big right paw on RB Mike Gillislee. The ball pops free and Darrelle Revis, who totaled 9 takeaways in 2015, gets in there quick for the recovery. The 6'3", 350-pound Harrison was brilliant in 2015 as the Jets finished No. 2 against the run and the Green & White held Gillislee to 28 yards on 24 carries.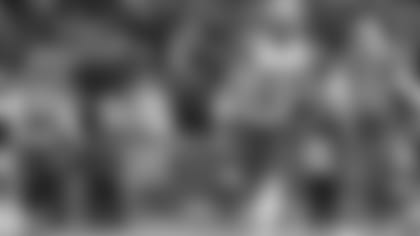 Ryan Fitzpatrick TD to Eric Decker Jets Trailing 19-10, 3rd Quarter 3rd and 10 from BUF 21A familiar look for both Chan Gailey and Rex Ryan as the Jets spread the field and the Bills show pressure.*  *The Bills are in dime and CB Nickell Robey is attempting to play mind games with Fitzpatrick. He charges the line, retreats and then finally comes off the edge. Meanwhile Eric Decker has a free release off the line and he and Fitzpatrick use a sudden hesitation to make S Corey Graham bite early. Fitz, who picks up a nice block from RG Brian Winters on the aforementioned Robey, steps up and creates plenty of room for Decker.
Discipline on Defense Jets Trailing 19-17, 3rd Quarter 3rd and 2 on BUF 26On a day the Jets struggled on third down,* *they played fantastic defense here to end the 3rd stanza. The box is stacked and Darrelle Revis is singled up with Sammy Watkins. Tyrod Taylor takes the snap under center and pitches right to Boobie Dixon. As Dixon takes a jaunt and surveys the landscape, Sheldon Richardson and S Calvin Pryor read QB throwback. Meanwhile Watkins is streaking down the field, but Revis is right there with him. This is just great recognition all over the place as you see S Marcus Gilcrhrist turn with TE Chris Gragg and both ILBs David Harris and Demario Davis sprint back to converge on the tackle. Harris got credited with his 4.5 sack.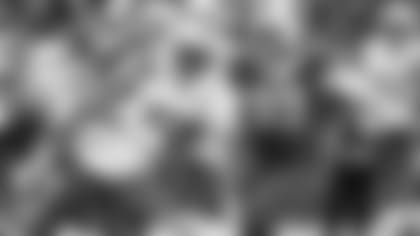 Marshall Attack & Finish
Jets Trailing 19-14, 4th Quarter 2nd and 4 from the NYJ 34This play symbolizes the kind of season Brandon Marshall had.* *With a 4-WR set, Marshall lines up by himself outside the numbers to Fitzpatrick's right. Respecting Marshall, Mario Butler gives him plenty of space off the line and the threat of Marshall going vertical puts the Bills CB in scramble mode. He falls when he turns on the brakes and Marshall – who established a new franchise-record with 10 100-yard games in 2015 – comes back for the football, catches it with his hands and then turns up the field for further damage.  Marshall picks up 7 of his franchise-best 1,502 receiving yards after the reception.