The New York Jets experienced a first Tuesday morning when general manager Mike Tannenbaum and vice president of college scouting Joey Clinkscales participated in an exclusive conference call, not with reporters as they often do but rather with club seat owners and suite holders at New Jets Stadium.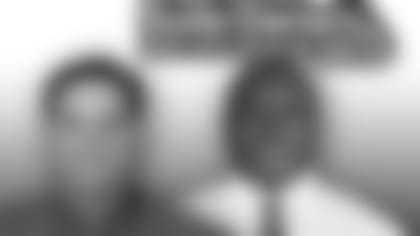 Neither man gave up the name of the player the Jets secretly covet at their No. 17 position in the first round of this weekend's draft, but both provided insightful replies to a dozen questions from fans who have purchased premium seating in the NJS, often revolving around the coveted flexibility that the Jets seek upon entering any draft.
"In the last three years we've made 15 draft-day trades and that's all a function of trying to take advantage of opportunities," Tannenbaum said. "That would be our goal again this year. If there are opportunities, we would consider going up as well as going back, depending on how the board sits."
Such flexibility, Clinkscales said, is a reason the team doesn't feel an urgent need to grab a wide receiver, a position, one fan stated, that they desperately need.
"I wouldn't say we need a wide receiver in the worst way," Joey said. "The guys we have, David Clowney has progressed greatly, we have Jerricho Cotchery, we have Chansi Stuckey, who we like a lot and who we think will be really good. I think if you have a really good mix of players, which we do have, your wide receiver corps will be pretty good.
"We'll go in and not feel like we have our hands tied with one particular position," Clinkscales continued. "At the end of the day, we're just trying to get the best player available."
Tannenbaum explained that by the night before the draft, he and his staff will have put together a call sheet.
"It's similar to an offensive or defensive coordinator's game plan sheet," Mike T said. "We'll have groups of players we'd trade up for and situations when we'd trade back."
Those call sheets came in handy in 2007, when he said the Jets had agreed the night before the draft to swap first-round picks with Carolina, which they turned into the selection of Pro Bowl corner-to-be Darrelle Revis, and last year, when a provisional deal with Green Bay for the 30th overall pick materialized.
"We identified Dustin Keller as a player we'd move up for," Tannenbaum said. "He met all our criteria. It was a position of need, he was a player who had production, he measured out well objectively, and he was a great person. We put the value of a fourth-round pick to move up, and we had a pretty good sense of which teams we could trade with. So we actually made that decision the day before."
If anyone on the call detected a method to the madness, they were correct. It could be summed up in three traits: unemotional, methodical, systematic.
"I look at draft day like game day," Mike T said. "All the hard work's been done. We should just go in there and enjoy it. We're prepared, and whatever happens, happens."
More events similar to this unique, exclusive conference call are being planned for the club seat owners and suite holders at New Jets Stadium.