Hi there, Jets Fans, Esther Here!
I am so excited to be in my first season with the New York Jets Flight Crew. I hope you are enjoying this amazing season we are having as much as I am.
I just moved to New York from Los Angeles to pursue growth in my career and I haven't regretted the move one bit. Though I miss my friends and memories in California, the best part about moving to the East Coast has been being much closer to my family. My parents and one of my two sisters currently lives in Atlanta, just a short 2-hour plane ride away. My mom was even able to attend a Jets game this season! Prior, she hadn't been able to see me perform, due to distance, since 2005.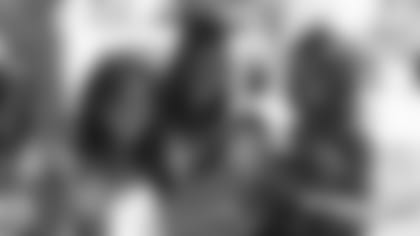 I believe both my parents' influence and our moving from London, England, to the USA has made us a very close-knit family, so being geographically closer to each other really means a lot. I am the oldest of 3 sisters and both of my sisters are in the entertainment industry; one a model and one an actress. Though I come from a traditional Nigerian family, where most kids growing up are encouraged to be doctors or engineers or lawyers without exception, my parents have always told us to pursue our dreams and be the best we can be, no matter what.
My parents have always pushed me to pursue advances in my career in the corporate world as well as in dance, which I believe is why we have had the courage to go after anything we have ever wanted to do. Our parents have always been very supportive of each of our accomplishments equally, whether it be TV shows, pageants, TV commercials, starting inspirational organizations, or NFL Games. One of my mom's favorite quotes is "Esther, go out and be the best you can be. Don't let anyone stop you or make you feel less than your best."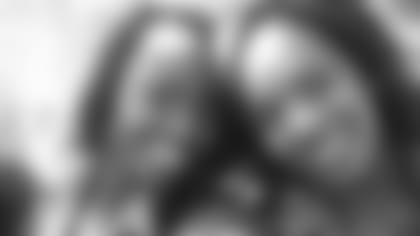 Outside of my two sisters and my parents, there is another little addition to our family — my dog, Mr. Bigglesworth. He is probably one of the most charismatic and loving dogs you will ever meet, 2½ years old, half shih tzu, half poodle, and loves on everyone he sees. I adopted Mr. Bigglesworth when he was only 3 months old and our entire family just adore him.
With the holidays quickly approaching, I am so glad to be so much closer to my family living here in New York City. Our family tradition is for my sisters and me to get together and cook a traditional (English and Nigerian) holiday dinner for everyone. Even Mr. Bigglesworth gets to have a little turkey. I am so lucky to have such an amazing family and I am glad I got to share them with the most amazing fans out there, Jets Fans!