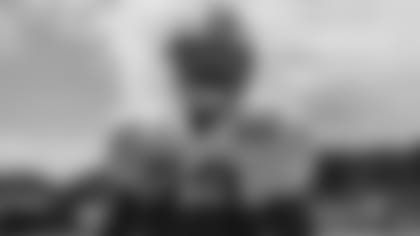 While most eyes shift toward No. 3 overall pick Sam Darnold at Jets training camp, another offensive rookie caught the eye of ESPN Monday Night Football's Jason Witten.
"I thought Chris Herndon looked really good out there today," said Witten, who came to the Atlantic Health Jets Training Center Tuesday. "I remember watching him in college. He just had a way of running routes. He had a good feel. You could see offensive coordinator Jeremy Bates is liking him and communicating with him. He has good speed, good size and I think he's got a big upside. Having the combination for the blocker and being able to be a receiver is a good fit. I expect high things from him."
Herndon, the Green & White's fourth-round selection in April's draft, has flashed at times in camp. The Miami product was pegged to be a Day 2 selection, but a midseason MCL injury cut his season short. At the time, the 6'4" 253-pounder was the Hurricanes' second leading receiver with 40 catches for 477 yards and four touchdowns, all of which were career highs.
For his career, Herndon tallied 86 receptions for 1,048 yards and seven scores from 2015-17.
"He's a tremendous athlete," former Jets TE and current broadcaster Anthony Becht said. "He's a kid that was able to do a lot of great things at Miami. You're going to see some explosive route running out of him. I think he'll stick his face in the fan as well."
Herndon is battling for the starting tight end spot along with Eric Tomlinson, Neal Sterling, Jordan Leggett and Clive Walford. With that being said, tight ends coach Jimmie Johnson is encouraged by Herndon's progression in camp. Johnson also believes Herndon is ahead of the curve compared to other rookie tight ends because he played in a pro-style offense in Miami.
"I think he's a guy that can become a complete tight end," Johnson said. "I know he does a great job of running routes and catching the ball and he also does it in the run game in terms of trying to block. There are things he needs to learn, but he's progressing nicely."