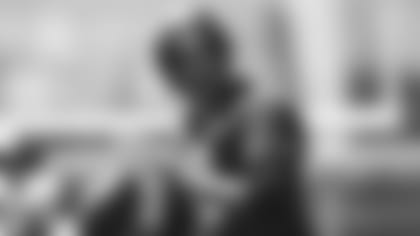 During the 2008 NFL preseason, the New York Jets traded for the Green Bay Packers' Hall of Fame quarterback Brett Favre. And in April 2023, the Jets made a deal for the Packers' four-time league MVP and future first-ballot Hall of Fame quarterback Aaron Rodgers.
Fifteen years after the Favre trade, ESPN NFL analyst Damien Woody, who played offensive line for the Green & White from 2008-10, says that Rodgers, like Favre in 2008, has brought confidence and a competitive edge to the Jets young roster.
"It kind of takes me back to my time with the Jets when Brett Favre got traded," Woody told team reporter Eric Allen on "The Official Jets Podcast" while reflecting on the Rodgers trade. "We were in the preseason and on the road in Cleveland and you kept hearing these whispers, like, 'We made a move, we made a move.' And then the next thing we know, Favre walks into the conference room. And when you make moves like that, it brings a whole different energy, whole different vibe to your team. Because I'm pretty sure these guys on the roster now are looking at this season like, 'we got a first-ballot Hall of Famer at the quarterback position.' And what it does is when you start playing these games you feel like you can beat anyone. That's not the case with a lot of teams. But when you have a quarterback the caliber of Aaron Rodgers, it's just it breathes life into your whole team."
A 12-year NFL veteran and two-time Super Bowl champion, Woody said that the Jets in 2008 felt they could go 'toe to toe' against the league's best because of Favre and thinks Rodgers will have a similar and even greater effect. Rodgers attended OTAs and despite sustaining a calf injury during workouts, worked off the field with his new teammates to develop chemistry.
"To see Aaron Rodgers here like the whole offseason it's just critical him getting familiarity with all the different players," Woody said. "And obviously, we saw him going out in New York City and spending time with his teammates. That's what it's all about."
Additionally, Woody thinks Rodgers' familiarity with offensive coordinator Nathaniel Hackett will aid the transition. Hackett coached Rodgers in 2019-21 over three seasons when, Rodgers won two MVP awards and threw for 111 touchdowns and 13 interceptions.
"I look at this Aaron Rodgers situation, and it might be the easiest path per se because there's no adjustment from the offensive scheme," Woody said. "His playcaller whom he spent a lot of years with is his playcaller here in New York. They're running the same system that he ran in Green Bay all those years where he won league MVP. So unlike Brett Favre, where we had to change things and kind of get him up to speed."
Other veteran quarterbacks have followed similar paths in recent seasons leaving their long-time teams. Future Hall of Famer Tom Brady joined the Tampa Bay Buccaneers after 20 seasons with the New England Patriots and Matthew Stafford was traded to the Los Angeles Rams after 12 years with the Detroit Lions.
Stafford and Brady won Super Bowls with their new teams and Woody believes Rodgers and the Jets are already a step ahead.
"It is unlike Brett Favre where we had to change things and kind of get him up to speed," Woody said. "And it is unlike Tom Brady, who had to adjust to [head coach] Bruce Arians and his system because it was different from New England. That's not the case here with Aaron Rodgers. It's a much smoother transition. Now it's just all about just getting a lot out of these young talented receivers out here."