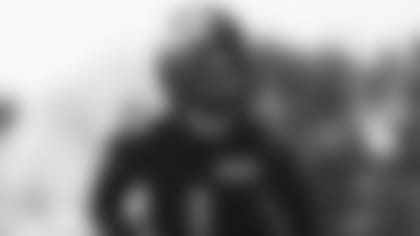 Ahead of the 2023 NFL Season, ESPN surveyed league executives, coaches, scouts and players to help make rankings of the top players at 11 different positions. In the site's fourth annual addition, DT Quinnen Williams, CB Sauce Gardner, LB C.J. Mosley and QB Aaron Rodgers of the Jets were ranked in the top 10 at their positions.
Williams was ranked No. 4 among defensive tackles trailing the Rams' Aaron Donald, Chiefs' Chris Jones and the Titans' Jeffery Simmons. An honorable mention in 2022, Williams was ranked as high as second by some who responded to the survey.
"As good as a defensive tackle that I've studied coming out of Bama [in 2019] – he was a young guy who needed time to mature," an NFL scout said. "It took him a while, but now it's clicking and he's still ascending. When he gets paid, I don't think he'll regress. He's as good as any pass-rusher out there right now."
In his fourth season, Williams totaled 28 QB hits, 12 sacks, 12 tackles for loss and 4 pass defenses – all career-highs – en route to a first team All-Pro selection, a Pro Bowl berth and a seventh-place finish for The Associated Press Defensive Player of the Year.
Last Thursday, Williams, a vital piece of the Jets top-tier defense in 2022 that finished No. 4 in total defense surrendering 311.1 yds per game, agreed to terms on a contract extension.
"Williams has been knocking on the door of the top 10 the past few years and broke through in a big way," wrote Jeremy Fowlers, a Senior NFL Reporter for ESPN.
Gardner, the Jets' first Defensive Rookie of the Year since Sheldon Richardson in 2013, was tabbed No. 2 among corners, trailing only Denver's Patrick Surtain II. Gardner was ranked as high as No. 1 and was not ranked lower than No. 6
"Combination of ball skills and ability to consistently stay in phase and disrupt timing," an NFC executive said. "I thought he was excellent [last] year."
Gardner led the league with 20 pass defenses, and on 81 targets as the nearest defender, held quarterbacks to a 62.9 rating. In addition, Gardner finished No. 8 in The AP Defensive Player of the Year voting and earned named a first team All-Pro nod.
"He pushed Surtain for the top spot," Fowler wrote. "Earning just one less top-three vote than the Broncos corner."
Among the league's signal callers, Rodgers was ranked No. 4 and tabbed as high as No. 2. He finished behind the Kansas City's Patrick Mahomes, Cincinnati's Joe Burrow and Buffalo's Josh Allen.
"I'm so glad to have him out of the division," a coach from the NFC North said. "He's still one of the quarterbacks that you hate to face."
Despite battling a thumb injury most of last season, the four-time MVP and 10-time Pro Bowler threw for 26 touchdowns, 3,695 yards and drew praise from the league's top coaches and executives.
"If you watch his tape, he still makes some beautiful throws," an AFC executive said.
Mosley was ranked as the No. 9 linebacker, and as high as No. 5 a year after earning his fifth Pro Bowl berth and a fourth second team All-Pro selection last season.
"I don't think people realize how good he is since he's not flashy and a bit of a throwback," an AFC scout said. "But he can do it all. Just a really [good] football player."
Mosley had 158 tackles, an interception and a sack in 2022, and in 492 coverage snaps allowed just 292 yards.
"Last season, he demanded appreciation," wrote Fowler. "He anchored a top-five Jets defense and was excellent against the pass."
RB Breece Hall was named an Honorable Mention after playing only 7 games as a rookie. Hall totaled 681 all-purpose yards and 5 touchdowns before sustaining a torn ACL in Week 7.
"He's a volume back with big-play ability, fast, big, good in space and good as a receiver," an AFC scout said.