Typically speaking, six days isn't regarded as a long period of time, but for former Jets linebacker Eric Barton, it represents the difference between life and death.
A little over a year ago, Barton went to the doctor for back pain he figured was a natural ramification of his playing days. Shortly thereafter, the 39-year-old would quickly become the recipient of a bone-crushing hit, something he was usually on the other end of throughout his 12-year career.
"My back was hurting, so I went to get an MRI because I could barely walk or bend over," he said. "The doctors told me something was putting pressure on my abs and back and I had to go to the hospital immediately because it could mean my liver is failing. I did that and they were right. My liver was failing and my kidneys were at two percent. I had to be put on life support until they found a match for my liver. It took one or two months while they were trying to get me ready for surgery if a liver ever came, which you don't know if you're going to get one. God blessed me with a liver within six days of when I had to have it."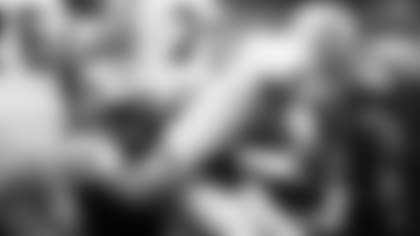 Adjusting to his new and healthy life, one of Barton's first thoughts was to give back to the Liver Disease and Transplant Center at Cedars-Sinai Hospital. With the help of Scott Hochstadt, his best friend since college and co-founder of Legends socks, Barton launched the Legends 50 for 50 campaign.
"The sock idea came when I was recovering," he said. "The doctors wanted to me to do things to stimulate my mind because you can become brain dead in some areas or different things can happen to your brain because of the trauma. Scott told me to write down all the names of my former teammates, players, coaches, agents or anything to do with football. From there, we came up with getting guys' permission of licensing socks and using part of the money from the sale to give back to the hospital."
It took roughly five months to finish compiling a list of people to reach out to, which included former Jets teammates Chad Pennington, Kerry Rhodes, Erik Coleman, Bryan Thomas, David Harris and Nick Mangold. The socks first hit the market in the middle of the 2016 season, which Barton said made it difficult to promote. With the benefit of an entire offseason, Barton and Hochstadt can properly raise awareness to the campaign, with one goal in mind.  
"I'd like to raise as much money for the liver transplant center," Barton said, who played for the Green & White from 2004-08. "When I was playing, I wanted to win a Super Bowl. This is my new Super Bowl."