It's difficult for any rookie draft choice to avoid the spotlight in the weeks leading up to training camp. IK Enemkpali, however, has the opposite problem and might need to do a little bit more than most to capture the attention of Jets coaches and fans.
For starters, Enemkpali represents one of a dozen Jets draft picks this year and was a sixth-round pick in a year when the Jets had four Round 6 selections. Second, he wasn't exactly a household name, having competed collegiately at Louisiana Tech in Conference USA.
And finally, his position — defensive end — isn't exactly one of need for the Green & White after we retained every contributing member of our disruptive defensive line from the 2013 season.
Perhaps these reasons help to explain Enemkpali's very specific goal in one of last week's practices: "Just making sure I run to the ball and show up on the camera."
"Every day I build on something that I feel I have to work on," he told me during a post-practice locker room session. "Things aren't just going to all come together in a day, so you have to have small wins and build on them."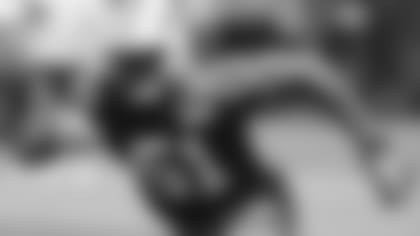 Those small wins will occur, but not by sheer luck. It will take heart, determination and skill. It will take playing like a Jet — a phrase that to Enemkpali means playing "fast, wide open and physical."
"Even if you make mistakes, you have to make mistakes at 100 miles per hour," he explained.
Of course, to move at top speed on the practice field, Enemkpali must be comfortable and confident in the defensive plays. This in itself will not be easy.
IK is not only being asked to learn a new system with "many more checks and details than in college," he's also having to adjust to a new pre-snap stance since he placed his hand in the dirt much more frequently for the Bulldogs than for the Jets.
Confident in his abilities, Enemkpali has no doubt he'll be able to make the necessary adjustments to transition into the NFL. The question then is, what role will he play on the team?
"There's nothing really extra that I can bring to this D-line. They're dominant," he said.
The trenchmen helped lead the Jets to a league-best 3.35 yards per rush allowed. Muhammad Wilkerson's 10.5 sacks made him the first Jet to reach double digits since John Abraham in 2005, Sheldon Richardson earned Defensive Rookie of the Year honors, and Damon "Snacks" Harrison evolved from an unknown and undrafted William Penn nose tackle into one of the best run-stoppers in the league.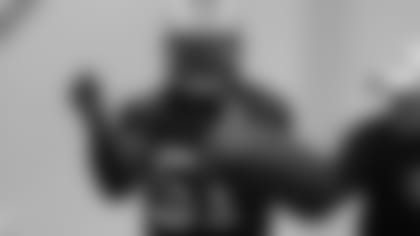 Still, Enemkpali's emphasis was on his inability to bring anything *extra *to the unit. Should he step in and provide more of the same though, that will be a tremendous feat.
"I feel like really I can just bring what I've got," he said, "and that's someone with good pass-rush ability and someone who plays with the same intensity as what's already here. I don't want to have a dropoff from what this unit did last year."
Only time will tell if IK Enemkpali has what it takes to keep this D-line in the upper echelon of the NFL's units. That of course would be a big win, and one that perhaps should be talked about on Sept. 10, not June 10.
For now, however, he'll stick to building on his small wins, getting his No. 51 to appear on film of every play by running to the ball and eventually running his way onto the 53-man roster.