Offensive POD: Veteran WR Eric Decker had a phenomenal afternoon, starting with a pair of sensational long catches in 1-on-1s. He got a step on rookie CB Juston Burris and won a hand-jostling contest before hauling in a long pass from Ryan Fitzpatrick. But he upped the degree of difficulty, making another long reception in the center of the end zone despite a flag on veteran CB Marcus Williams. But we like to highlight team plays, so Decker's TD in 11-on-11 takes the cake. Fighting through a hold from rookie Bryson Keeton, Decker found a Fitzpatrick pass over his shoulder and made the finish look easy.
Defensive POD: In terms of sheer technique, Marcus Williams came up with a PD by the book. Running step-for-step with rookie WR Jalin Marshall, Williams closed on a Geno Smith throw over the middle and reached his hand around for a pass deflection. Williams made no contact with the receiver and timed his contact at the perfect time.
The Versatile Forté: While the Jets would like to get the veteran back some snaps against the Giants, he continues to participate in team activities. He made a number of receptions out of the backfield Sunday and Forté is someone defenses are going to have to account for during regular-season action.
"He's a really good route runner. He's almost receiver-like, some of the things he can do out there," said QB Ryan Fitzpatrick. "You saw at the end of the year last year how important those backs are catching passes for us — Bilal did a great job. So Chan's going to have his hands full being able to think of ways late at night to get those guys the ball and put them in different situations."
Geno with the First Team:Geno Smith got some reps with the first-unit offense Sunday. Smith made a great throw to WR Brandon Marshall down the sideline and later he finished the drive on a QB keeper. Head coach Todd Bowles said the Jets have a plan for the quarterbacks in Saturday's third preseason game, but he is not going to reveal it.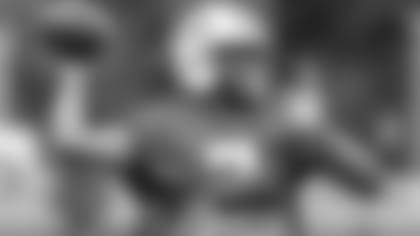 Lee, Catapano in Base: With Erin Henderson out with a stinger, rookie Darron Lee worked alongside David Harris in the middle with the first defense. Julian Stanford took Lee's spot with the second team, teaming up with Bruce Carter at inside linebacker. Lee collected an end zone PD today.
"He'll probably be probable this week if I was a betting man," said Bowles of Henderson. "Knowing him, he'll want to play."
What Might Have Been: Jalin Marshall made an improbable catch late in practice, hauling in a Fitzpatrick laser in the back of the end zone with one hand and pinning the rock to his helmet for security. But alas, the rookie's feet were out of bounds and the refs rightfully ruled an incompletion on the field.
DNP: WR Quincy Enunwa (concussion protocol), RBs Romar Morris (shoulder) and Dominique Williams (head), LB Erin Henderson (stinger), CB Dexter McDougle (hamstring), S Dion Bailey and DL Lawrence Thomas (shoulder).
PUP: RT Breno Giacomini (back) & WR Devin Smith (leg).
Jets Return for Final Week of Training Camp