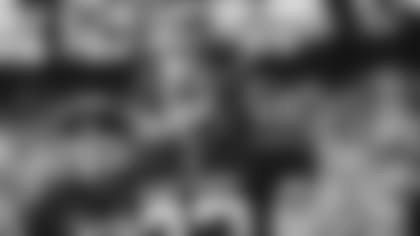 It all seemed like a dream for Jets safety Elijah Riley.
Before last Sunday's game at MetLife Stadium against the Philadelphia Eagles, Riley, a native of Port Jefferson on Long Island, took a lap around the field -- filled with a sense of awe and perhaps a dash of disbelief.
Any sense of disbelief was erased at Houston a couple of weeks ago, and then came full circle as the former Army cadet started his first game at home for the Green & White, returned to the facility on the 80th anniversary of the attack on Pearl Harbor -- on Tuesday -- only days before the 122nd Army-Navy game -- in MetLife Stadium on Saturday.
"This has been a dream of mine since I was a kid," Riley, who used to attend practice when the Jets were based at Hofstra University in Hempstead, said last week of playing for the Jets. "Regardless of the barriers that are put in place, that didn't change my ultimate goal. So as a result, my work ethic didn't change."
He added: "It's a dream come true. Hometown kid playing for a hometown team. It's amazing."
The U.S. service academies are not necessarily noted for turning out NFL players. Part of the reason was the mandatory service requirements that were rarely, if ever (see, Roger Staubach), waived. That changed in 2018 and allowed Riley to be signed by the Eagles as an unrestricted free agent in April 2020.
But before the Jets plucked him off the Eagles' practice squad and signed him last month after the veteran Marcus Maye sustained a season-ending Achilles tendon injury, Riley, 23, had to adapt to the rigorous life of a West Point Cadet.
"It was a massive culture shock," Riley said on "The Official Jets Podcast" with team reporter Eric Allen and Leger Douzable. "It changed my every day to now running on Army time, no ifs ands or buts. The military runs without you. You have to catch on and you have to adjust quickly."
As a freshman, Riley and his Black Knights teammates had to deal with the death of his friend, safety Brandon Jackson, who died in a car crash after Army's victory over Rice. Jackson had been Riley's host on his visit to West Point and the two shared a local bond -- Jackson was from Queens.
"He was there for my official visit when I visited Army," Riley said "A fellow New Yorker who I looked up to. A great football player, a very technical, gifted player. Someone I wanted to have as a mentor. He helped me in the small time I was there. His passing was tragic. He had such a large influence on the team."
Riley was able to keep his head in the game, never forgetting his friendship with Jackson as he first landed with the Eagles and now with the Jets. He's made the most of his opportunity in Green & White. In his first start for the Jets, at Houston, he had 5 total tackles (1 for a loss) and played 79 snaps on defense. Last week against his former team, Riley had 7 total tackles (6 solo), played 89% of the snaps on defense and had the Jets' only sack of the game.
"I kind of ended up in the wrong position and saw Gardner [Minshew] trying to scramble," he said of the sack. "It happened so quickly I didn't have time to celebrate. After the game I got to see it on the stat sheet and thought it was pretty cool. Hey, I got a sack."
Riley said he enjoys the physical aspects of the game ("I like to fly around and hit people. It's fun."), but athletes accepted to a service academy must combine skill and smarts ... not to mention discipline. "I've always felt I was kind of cerebral," he said.
For him and millions of other football fans, college or otherwise, the Army-Navy game is always something special, regardless of the teams' records. The history and pomp are nearly unsurpassed.
"I love the Army-Navy game, it's a fantastic atmosphere, such an exciting game," he said "There are so many emotions that go into it. The guys on the field are brothers in arms 364 days of the year, but when you step on that field all sense of brotherhood goes out the window. There's no feeling like it, I get goosebumps through my body. The game is a memorable one, and playing in it for four years was fantastic."
As he and the Jets began their preparations for Sunday's game against the visiting New Orleans Saints, No. 33 circled back to what he called "Army time," and his necessary adjustment at West Point.
"It's at least 10 minutes early, on a good day," he said. "Depending on the commander, you may have to be an hour early. That's a coach's dream -- a guy who's on time and prepared."
Exactly the way head coach Robert Saleh and Jets coaches like it.