Turning Point: Trailing 20-10, the Jets defense seemingly was on the field for the longest drive maybe in the history of the world.  Well it turned out to be only 11:21, but it felt that way as the Giants converted on a pair of third downs before a fourth down offside penalty kept the drive alive. Then a defensive holding penalty on 3rd and 20 bailed out the Giants once again and that was followed up by a pass interference penalty on a  3rd and 10. It just didn't feel like it was going to be the Jets' day, but then the Giants elected to go for it on 4th and goal from the 2 after Eli Manning hit Rueben Randle for 16 yards. But Rontez Miles, who was the one who jumped offside while trying to make a play on special teams, intercepted Eli Manning and New York's AFC representative had life.
Fitz Is a Fighter: For all the talk about what Ryan Fitzpatrick isn't, this guy is a good quarterback and a hell of a leader. Fitz, who absorbed some serious shots in the first half and was sacked three times Sunday, led the Jets to 13 points on their final three possessions. After the Miles interception, Fitzpatrick went to work with Eric Decker and the Jets chipped away with a Randy Bullock field goal. Then Fitz was magnificent on the game-tying drive, scrambling for 15 on 4th down before later hitting Brandon Marshall for a 9-yard score. And then in overtime, Fitz went right down the field again as Bullock nailed the 31-yarder. Fitz finished 36 of 50 for 390 yards with 2 TDs and 0 INT. His 390 yards were the most Fitzpatrick has ever posted in a victory. Fitz, who has ice water in his veins, is hot as the final quarter commences.
Powell Was Pivotal: Marshall was just sensational with 12 catches on 13 targets for 131 yards and the TD. Decker (8-101) chipped in with his first 100-yard effort of 2015, but the Jets' third receiving weapon on this day was Bilal Powell. Setting career-highs with nine receptions and 81 yards receiving, Powell's 1st career receiving touchdown evened the contest at 10 way back in the second stanza. Powell got the Jets game-tying drive started with a 20-yard catch and then Fitz hit him again for 12, setting the stage for Marshall's heroics. Powell also had four touches on the Jets' OT drive including runs of six and seven yards.
Defense Shut the Door: The Giants scored 20 points in the second quarter and Odell Beckham Jr. finished with six receptions for 149 yards including a 72-yard TD. But the Jets defense truly only surrendered 10 points as the Giants scored on Dwayne Harris' 80-yard punt return and after a fumble deep inside Green & White territory. Already playing without CBs Darrelle Revis (concussion) & Marcus Williams (knee), the Jets lost DE Mike Catapano (foot) and S Calvin Pryor (stinger) at different points and still held the Giants to 4-of-15 on third down. The NFL's top-ranked red zone defense was perfect as the Giants couldn't convert with a TD on any of their three red zone opportunities. They also sacked Eli Manning three times as Catapano got one before exiting, Muhammad Wilkerson collected his team-leading 9th and Leonard Williams recorded the first QB solo takedown of his NFL career.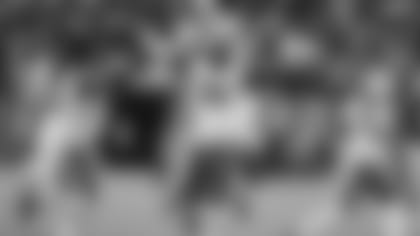 Final Quarter Begins: The Jets are 7-5. They will continue to play meaningful football in December. There is plenty to clean-up, but this team displayed a lot of resolve and character Sunday. Players like Fitzpatrick and Marshall have never played a postseason game and they'll do anything to get there. But Marshall told me late Sunday, "We haven't done anything yet."