@eallenjets You're take on the draft? I thought it was very solid. LOVED the Amaro and Evans picks. Saunders could be a steal.#JETS — starblazer (@01Starblazer) May 12, 2014
EA: The Jets scouting staff is extremely pleased with how draft weekend played out and I would concur with your assessment that GM John Idzik and company did a "very solid" job. The Jets have greatly improved their depth this offseason and I like that speed continues to be emphasized in all three phases.
When Day 2 began, one could have argued that the two names who made most sense for the Jets were WR Marqise Lee and TE Jace Amaro. But I thought they would need to trade up in order to select either target. While exploring all options, Idzik had to be delighted that Amaro was still available in the second round at No. 49 overall. The former Red Raider, who set NCAA single-season tight ends record for receiving yardage (1,352) and led all FBS TEs in receptions (106), is a sure-handed big, physical dude who creates mismatches and is tough to bring down in the open field.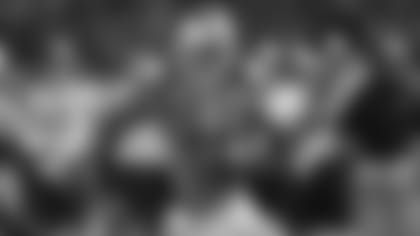 It will be exciting to watch all these draft selections develop, but Shaquelle Evans is intriguing because he could push to become this team's No. 2 WR. The 6'1", 213-pound Evans, who broke out the past two seasons with the Bruins, is proficient in a lot of categories: hands, route running and instincts. I saw him up close at the Senior Bowl in Mobile, AL and there is talent there.
Idzik told me the Jets had targeted Saunders on Day 3. Saunders could take over punt return duties as he averaged 15 yards a clip in college and had three PR TDs at Oklahoma. Yes he is only 5'9", 165 pounds, but the speedster plays tough and he gives Marty Mornhinweg another explosive option.
EA:Way too early to say. I still say if you lined up tomorrow, you probably have Dee Milliner and Dimitri Patterson on the outside and Kyle Wilson at nickel. McDougle is going to have earn his playing time, but I would anticipate him pushing Wilson in training camp. And he is a big-time talent who most anticipate playing outside in the not too distant future.
@eallenjets are we happy with WRs picked, seems they could have chosen better talent WR in the 3rd &4th. — Bill Sherman (@bsherman1980) May 12, 2014
@eallenjets hey ea what do you think about the jets wrs after the draft do u think we found a good num 2 or should we look for more — david armienti (@armienti_david) May 12, 2014
EA: Since it was such a deep wide receiver class, the Jets were not in a position where they were going to overspend in order to get a Lee. By my count, eight WRs were off the board when the Green & White went on the clock in the second round and I think they made a wise move by selecting Amaro. They had him rated higher on their board than Davante Adams, Cody Latimer, Allen Robinson and Jarvis Landry. We probably will never know what the Jets would have done if Odell Beckham Jr. was on the board at 18, but that hypothetical doesn't matter at this point.
In the third, I just don't think the value was there going after a receiver. The Jets thought awfully highly of Maryland CB Dexter McDougle and they didn't want to regret passing the corner up who was only around because he threw his shoulder out making a tackle last season.
They did well with Saunders and Evans. Quincy Enunwa could help on special teams immediately.
EA: The Jets are bullish on Smith's future. Offensive coordinator Marty Mornhinweg told me Smith was "progressing just beautifully" towards the end of his rookie season and Mike Vick will come in and "push" No. 7. Smith blossomed down the stretch as he saw the field better, improved his ball security and appeared more comfortable picking up yards on the ground.
Even Vick told NJ.com recently that, "Geno's the starting quarterback for that football team. Ultimately, our goal is to try to help Geno become the best quarterback that he can be."
Idzik and the personnel department have helped the quarterbacks this offseason, adding proven veterans in WR Eric Decker and RB Chris Johnson. Then they got another productive pass catcher in Amaro, who should help immediately as a rookie. If Jacoby Ford stays healthy, he can make some things happen beyond the return game as well.
@eallenjets You think Sammy Watkins checks for Calvin Pryor under his bed before he goes to sleep? — J.J. (@JetsZaun21) May 13, 2014
EA:No. I don't think Watkins is built that way, but I am looking forward to the Bills No. 1 WR locking horns with Dee Milliner on the outside while the Jets' new heat seeking-missile in Pryor hovers close by.
EA: Hah! The Jets will definitely field a faster team in 2014. Think about CJ2K, Vick and then some of the drafted players. But none of the Jets 12 selections are considered to have "world class speed." I think Al Davis had 4.3 as a prerequisite and none of the Jets' picks ran that expect for sixth-rounder Brandon Dixon.