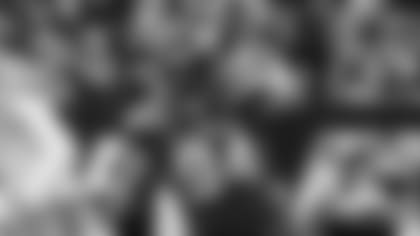 Along the player walk from the locker room to the auditorium at 1 Jets Drive, there is a wall adorned with images from each game from the 2022 season. There has been space left for the upcoming 2023 campaign and the Jets hope they'll be able to fill that wall with images from games that include Super Bowl LVIII, which will be played on Feb. 11, 2024, at Allegiant Stadium in Las Vegas, NV.
"One of our slogans is finish the wall," DT Solomon Thomas said this week. "Along the wall in our hallway, we have all the games that we have played but we also have blank spots for games that we missed. We want to fill in the wall, we want to make sure that every section of the wall is filled in with games until the very last one which is the Super Bowl. That is our goal, that is our mission, but we have a lot of steps left until we get there. We're still in June, we have a lot of work to do, and we have a long way to go."
With the Jets' spring season coming to an end Friday, players like the vibe inside the building. Thomas and his teammates know they have a talented team that will only be elevated by four-time NFL MVP Aaron Rodgers. But talent and potential won't equal wins unless the Jets continue to put in the work that is required for a team that will be expected to play deep into January and possibly beyond.
"The room is buzzin' right now, the building is buzzin', and it's buzzin' for a reason," Thomas said. "You bring in a Hall of Famer like Aaron Rodgers and it's going to change some things, just his leadership, his knowledge, the way he plays the game. You know he's going to put up points, you know he is going to play smart football. It just brings a whole new youthfulness around this team for the vets. We're just super excited and we're excited for the potential, but we also know at the same time — we know potential doesn't mean anything."
In March, Thomas re-signed with Jets for a second year with the Green & White. The No. 3 overall pick in the 2017 NFL Draft, who spent the first four seasons in his career with the 49ers under Robert Saleh, took 338 snaps last season and had 26 tackles, 4 QB hits and .5 sacks.
"There were a couple of teams in the mix, but I always wanted to come back here," Thomas said. "The locker room that we had last year was special. Through the wins and losses, we just got closer and closer. Just knowing what Saleh was building here and knowing the coaches here, I was very confident coming back here that we were going to build a winning team. And then on top of it, you bring in a guy like Aaron Rodgers and it makes your decision even better."
Thomas will continue to add depth to a defensive interior that will have a changed look next to Quinnen Williams. The Jets signed both Quinton Jefferson and Al Woods in free agency after Sheldon Rankins (Houston) and Nathan Shepherd (New Orleans) found new homes. The versatile John Franklin-Myers and second-year pro Micheal Clemons have the ability to shift inside, and the entire line should benefit from another elite pass-rushing talent in rookie Will McDonald.
"We all feed off of each other," Thomas said. "We all learn how to rush together — we have different guys come everywhere. Certain guys bring different things but one thing about this group is we're all going to play with high effort, we're all going to be violent players and we're going to play hard. This group played great last year, and I think our ceiling is even higher with our additions this year of Al Woods, Quinton Jefferson, some of the players we've brought in is super exciting, first-round pick Will McDonald."
The centerpiece of that talented defensive line is Williams, the team's 2022 Team MVP. Throughout the offseason, head coach Robert Saleh has expressed optimism that the Jets and Williams will reach agreement on an extension.
"One of the best, most dominant players in the league last year," Thomas said of Williams. "Unbelievable to watch what he did [12 sacks] or whatever he did. Just dominating play after play. I've been able to play with some great defensive linemen throughout my career [Nick Bosa, DeForest Buckner] but what Quinnen did last year in dominating every play was super special and I can't wait to have him back and super excited about him."