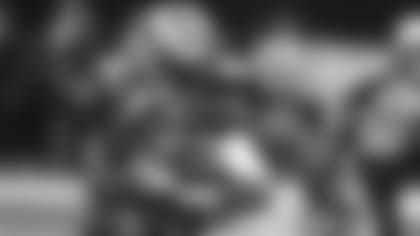 Before he was drafted No. 12 overall by New Orleans in 2016, some pundits labeled DT Sheldon Rankins as "Mr. Boring" because of his singular focus on football. Now, after signing a two-year pact with the Jets, Rankins expects his play to give a rebuilt and formidable defensive line a jolt of electricity.
Rankins, 27, met the media virtually for the first time on Tuesday since signing with the Jets.
He did not come off as boring, far from it, but he did affirm that he's a football fanatic, especially when it comes to checking out the competition, and now his new teammates.
Asked about the prospect of teaming with Quinnen Williams, Rankins said: "I've followed Quinnen since he was at Alabama and I know the type of player he was down there. You should know that and I'm a junkie for this game. I'm always watching other defensive tackles. I've watched Quinnen, Foley [Folorunso Fatukasi], all those guys. Just me pairing up with all those guys, I think we're going to do some damage." The other key addition up front was the signing of DE Carl Lawson from Cincinnati.
Rankins was drafted out of Louisville by New Orleans with the 12th overall pick in the 2016. Over his five-year career (all with the Saints), Rankins has appeared in 63 games, starting 33, registering 116 total tackles (25 for a loss), 17.5 sacks, 3 passes defended and 3 forced fumbles. His best year came in 2018, when he logged 40 total tackles (14 for a loss), 8 sacks, 1 pass defense, and 1 forced fumble.
The versatile defensive lineman (6-2, 305), who is capable of playing a variety of positions, has dealt with a series of injuries (broken leg, knee, Achilles tendon, ankle) that limited his playing time and production, keeping him out of the discussion about elite D-linemen. He played in 10 games in 2019 and 12 last season.
"I'm 100% healthy, I'm able to do all the things I could do before and more," he said. "It was a blessing at one point because throughout rehab for both legs there were times I began to doubt I'd be able to do those things again. I'm good to go and feel I can do any and everything on the field to be successful. Thoughts have crossed my mind whether I'd be able to get my career back on the trajectory it was on. I felt I was on my way to being in the upper echelon of DTs, then injuries struck. I'm confident in my ability to get back to doing those things that made me a special player."
With the Jets switching to a 3-4 defense favored by HC Robert Saleh and defensive coordinator Jeff Ulbrich, Rankins admitted that's part of the reason he decided to sign with the Jets. Another reason is how impressed he's been watching Saleh's defenses when he was the DC with the 49ers.
"One thing I feel like is that I've got a good eye for leaders of men, and I feel like that's what we got with Robert Saleh," Rankins said. "I came in here to work hard. It's not going to be easy to turn around an organization that hasn't won a lot of games in a while. But we've got someone at the helm that demands excellence, and I think it will have nothing but a positive effect on the rest of the roster.
"We will be able to turn this thing around. I saw an opportunity to do something special here, and that's what I intend to do."